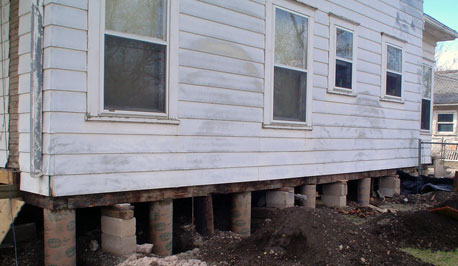 Updated March 19th, 2022
Pier and beam foundation repair costs generally range between $4,000-$6,500. If you're simply having your foundation re-shimmed, the price would be closer to $2,500-$3,500, depending upon your home's square footage.  Of course, if you're repairing a very large house that has a pier and beam foundation, the price would go even higher. In fact, if it is seriously damaged, it could well exceed $10,000. And remember: It's one thing to install ¼" steel shims to stabilize girder beams under a house, and quite another to install concrete piers (or pilings) all the way around a structure.
Why are pier and beam foundations so costly to repair?
They're expensive to fix because it takes a lot of man hours to make repairs. It's difficult to work in a dark, cramped crawl space. What's more, these types of structures often have rotten wooden members that need to be replaced. The cost of wooden beams and joists can quickly add up. If foundation piers or block and base supports must be installed under a pier and beam house, the price could easily reach $6,000 or more. Overall costs can also be affected by the type of foundation piers installed.
What are the advantages of pier and beam foundations?
Modern pier and beam foundations are basically elevated wooden foundations that rest on concrete piers and are positioned about 18-24" off the ground. (Older pier and beam homes, those built before 1960 when they were most popular, were supported by wooden piers or even tree stumps.) Newer pier and beam homes generally have a concrete perimeter beam that runs around the outside perimeter of the house, and they all have a crawl space under them. The crawl space allows for easy access to plumbing pipes and electrical boxes, which can sometimes make them easier to repair than other types of foundations.
What are the disadvantages?
These types of foundations are prone to getting damp, developing mildew, and rotting because they are made of wood. While pier and beam homes are common in the North Texas area, they are far more common in northern states, where the weather gets freezing cold for months on end.
Moisture and rain often gets trapped in the crawl space and it is very important that the crawl spaces are properly vented. Termites and rodents can be a big problem, too. While pier and beam foundation can't crack like concrete foundations do, they can develop a lot of other problems, which is why property owners often call us for pier and beam foundation service.
The number of foundation piers your house needs, as well as the condition of the beams and joists under your home, can greatly affect repair costs.

Pier and beam homes rest on piers and have wooden girder beams (heavy wooden beams) that sit on top of the piers. These girder beams support wooden joists, which are small versions of girder beams, but run the opposite direction under the house. If the joists or girder beams have rotted out, they will need to be replaced and that will increase the pier and beam foundation repair costs can vary by quite a great deal. And if new piers need to be installed, the price will vary depending upon the number of piers that need to be installed in order to make the house level.
How To Find Out What Pier And Beam Foundation Repair Costs:
The cost to fix these homes in the Plano, Dallas and Fort Worth areas is impossible to provide without first inspecting the foundation. Because foundation problems multiply as time goes by, it's best to call a foundation repair contractor right away. This will allow you to minimize the cost of repairing your pier and beam foundation.
In the event you detect foundation issues, schedule a free estimate online today.