Concrete Foundation Piers Dallas, Fort Worth, Arlington, TX
Learn HD Foundations' Process For Installing Concrete Pilings.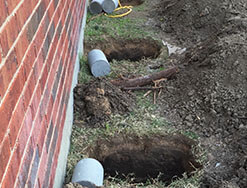 When concrete foundation piers in Dallas, Fort Worth are required, contact HD Foundations. We install piers all across the DFW metroplex, including Arlington, Plano, Irving, Fort Worth, and Dallas. Pressed concrete foundation piers are durable piers that stabilize pier and beam houses and concrete slabs.
Live In Fort Worth or Dallas? Concrete Foundation Piers Offer Benefits:
Pressed foundation pilings are strong.
They are highly effective in DFW area expansive clay soils.
Pilings manufactured from concrete are affordable.
They're long lasting and very popular in North Texas.
Concrete piers are capable of supporting the load bearing weight of a typical concrete slab foundation or pier and beam structure.
They're used for commercial or residential applications. We commonly install concrete piers in Dallas, Fort Worth Arlington and other Metroplex cities.
You may want to study information about steel piers vs. concrete piers: which is better.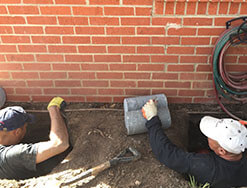 About HD's Process For Installing Concrete Piers During Foundation Repair:
Holes are excavated in the ground, around the perimeter of your foundation.
If interior piers are required, we'll dig holes in the central part of your foundation.
When a slab is involved, installing interior piers necessitates cracking the concrete slab. During our 5-step repair process, we break the floor in order to insert the pilings. Later the floor is patched.
Whether we're installing concrete foundation piers in Fort Worth or placing them in Dallas, sturdy concrete foundation piers are forced down into the ground using a hydraulic ram.
A concrete cap is placed on top of the piers and shims are set above that.
A hydraulic bottle jack is positioned on top of the cap and the foundation is lifted.
Your foundation is positioned directly on top of the shims.
The holes that were excavated earlier are filled in with soil.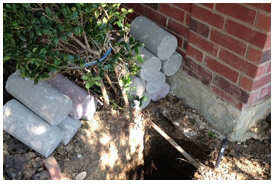 How Long Does It Take To Install Concrete Piers?
Homeowners in the Dallas, Fort Worth, Arlington area can generally have them installed in 1-3 days. For more information, contact HD Foundations.
Obtain a Free Estimate:
Learn costs for using concrete foundation piers in Dallas, Fort Worth, Arlington, Irving, and Plano area. Schedule a concrete pier foundation repair estimate free online today. Or, if you prefer, just call us. We perform thorough foundation evaluations.