Hot weather is one of the causes of foundation cracks. Summer temperatures have been known to have a very strong affect homeowners in the Dallas, Fort Worth metroplex, especially those who have concrete slab foundations. Heat is an issue. By having a foundation inspection now, you can prevent cracking and further deterioration. To learn more, read about how hot summer weather can damage foundations. In the event repairs are needed, it's best to have your house foundation fixed right away.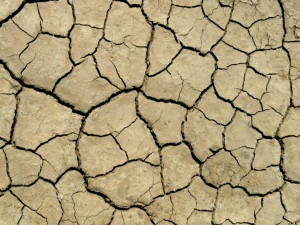 How Hot Weather Causes Foundation Cracks: 
It can damage your Dallas, Fort Worth foundation by making the soil around your foundation contract. During the months of June, July and August, the ground around your foundation can become exceedingly dry. This is especially true in the DFW area and other parts of North Texas, where scorching weather conditions often reach 96-105 degrees. Climate changes are what cause cracks in foundations. When the heat rises, the clay soil surrounding your concrete slab foundation shrinks and pulls away from your house. This leads to foundation movement. Fractures in foundations can quickly increase from 1/8" to ¼" in size, and eventually grow well beyond 1" in width. That's why you need to stop what's causing the damage, particularly when the weather is extremely hot.
Gaps weaken concrete over time and will ultimately result in sinking or settling in your slab foundation. Eventually you'll notice that your slab is sloping or no longer level. Find out how slab cracks cause foundation damage and learn what you can do to about them. When the climate starts getting warm, prevent foundation cracks by taking preventive measures. Maintain a relatively consistent moisture level around your foundation. Dallas, Fort Worth property owners can benefit from doing this using a soaker hose. It can help minimize cracking in your concrete surface. Doing this could save you $2,000 – $6,000 in the future. In some cases, it might reduce repair costs even more.
And keep this in mind: While heat can cause fractures in the summer months, cold weather and rainfall can cause cracking in your foundation, too. That's because slabs made out of concrete expand and splinter when they're cool and wet. In order to prevent foundation issues, it's imperative to understand the impact that the local climate can have on your foundation. You'll discover that in addition to scorching weather, there are a variety of other things that can cause cracks in durable concrete slab foundations.
What is Expansive Clay Soil?
The Dallas/Fort Worth areas in Texas have a distinct type of soil that isn't found in most of the rest of the country: expansive clay soil. This ground's consistency is somewhat malleable, and changes based on the amount of moisture in the soil, whether it's an abundance of water (which makes this soil expand), or a lack of water (which makes this soil contract). This contraction in the soil during the summer months can eventually lead to cracks in concrete slab foundations, exterior brick walls, tile floors, sheetrock and more.
What Kind Of Damage Can Hot Weather Do To My Foundation?
The probability of this occurring increases as the temperature does – and Dallas will continue to see some very hot days this summer. This means more homeowners in the DFW area may notice cracks and see movement in their foundation. The slab foundation moves as a result of the fluctuation of the soil; when the foundation shifts position, it tends to settle and develop fissures. This can result in gaps around windows that may become evident, cracks appearing on the walls or floor, or doors closing with more difficulty than usual.
What Can I do to Prevent Crack Damage?
Watering your foundation is a beneficial, cost-effective DIY method to stop the expansive clay soil from fluctuating and causing damage.  To read more about how to properly water your foundation in the summer, read our blog post here.
How Watering Foundations Stops Slab Foundation Crack Problems And Damage:
It halts deterioration and problems in the summertime in the Dallas and Fort Worth areas by reducing the amount of shrinkage in your soil. Exceptionally warm temperatures in the DFW metroplex cause the clay soils in the area to contract. Then, when it rains in Spring or Winter, these soils expand. This back and forth motion causes cracks around concrete slabs or pier and beam foundations and results in lots of damage. Watering minimizes foundation movement and decreases the amount of destruction that occurs in your foundation. Hot weather is the reason concrete slab foundation repair service is needed to stop damaging conditions in the summer months. Learning how to end foundation issues is essential. So is fixing the foundation on your slab or pier and beam foundation. And remember, indications of damage include foundation settling or sinking, floors that aren't level, cracks around door frames, and, of course, visible cracks in your foundation. Sometimes these foundation problems aren't severe and you may not need to make repairs on your slab foundation cracks right away. It's important to check your foundation to see if any destruction is occurring and whether cracking has become an issue.
If you live in Texas and want to learn more about how hot summer weather in the Dallas or Fort Worth area can damage foundations, contact HD Foundations. Watering helps so be sure and do it around your concrete slab or pier and beam structure. Give HD Foundations a call or schedule a free foundation repair estimate online today. We'll stop by and evaluate your foundation for crack issues and other forms of destruction. HD Foundations services Dallas, Fort Worth, Arlington, Plano, Irving, Grand Prairie, Carrollton, Euless, Colleyville and the entire DFW area.
About Obtaining An Inspection To Prevent Foundation Damage:
It's best to stop trouble before it starts. If you see any indications that your foundation is deteriorating, enlist a foundation repair contractor to perform an evaluation on it. By having a professional thoroughly inspect your foundation, you can determine exactly what's causing slab fractures and deal with them swiftly and effectively.
In the event that your foundation is cracking due to warm weather or other conditions, contact the experts at HD Foundations. We'll perform a foundation inspection on your house or other structure