Foundation Repair
Irving, TX
Call HD For Foundation Repair In Irving. We're Specialists That Offer A Lifetime Warranty.
Need foundation repair in Irving, Texas? We restore house foundations and make them level again. Stop foundation damage and learn more about foundation repair service. Our locally owned business offers Irving homeowners free foundation evaluations. To stop foundation problems, contact HD Foundations today. We service residential structures all across the metroplex.
Why Choose HD Foundations, Inc.?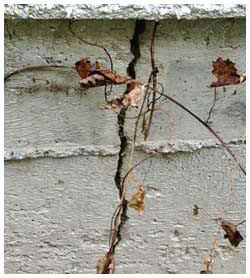 * Houses in this area are positioned on expansive clay soil. Since clay soil expands and contracts when the weather changes, pier and beam or slab foundations are likely to shift. They could sink 1", 3" or a whole lot more. This leads to fractures, deflection and other forms of structural foundation damage. Find out more about hot weather, cracks, and foundation repair.
* The climate in Irving drastically affects house foundations. They often become unlevel. Slab foundation cracks frequently appear due to hot North Texas weather that reaches over 100 degrees. An overabundance of rainfall (typically about 36.5" a year), creates all kinds of problems. This includes window gaps, fractured exterior brick and more. Your home could also be affected by foundation heaving. This occurs when moisture pushes a house upwards by 2-3" or more. Foundation contractors see this all the time. If you own a home in Irving, find out about the foundation repair process that companies like HD Foundations use. Concrete slabs and pier and beam structures can be fixed.
*  Soils in the Irving area are especially deep. As a result, structural engineers face many challenges. While foundation piers might be installed 12' deep in some local cities, in Irving it's not uncommon for foundation pilings to be drive down much further (more than 30' deep in Las Colinas.)
* Plumbing leaks frequently occur due to foundation movement. When plumbing pipes break (particularly those located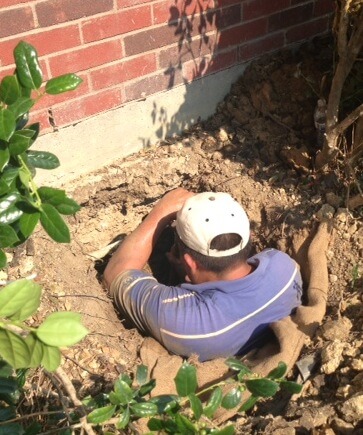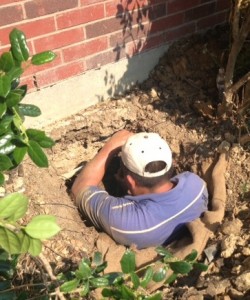 under concrete slabs), leaks weaken a foundation. Thousands of gallons of water could be seeping beneath your foundation every year without you even knowing it. If you notice that your soil is eroding or you see fractures, you may need foundation crack repair service. Ask us to examine your house. We're a top Irving foundation repair contractor and drainage expert who will give you sound advice.
The Reasons Our Company Can Resolve House Foundation Issues:
HD Foundations has more than 17 years of experience installing interior and exterior pressed concrete foundation piers or steel piers under houses. These pilings are driven to different depths, depending upon soils conditions. Concrete piers are commonly driven 12-16', while steel pilings may go as deep as 25' or more. Sometimes a simple re-shim is all that's required to minimize the affects of foundation settling. These 3/8" steel shims are piled on one on top of the other. Both steel and concrete pier foundation repair stop house foundation damage.
We're a family owned business in Irving with an A+ Better Business Bureau rating.
If moisture is a concern, drainage system installation service can be provided. This will protect your concrete slab, or eliminate damp crawlspace issues related to mold, mildew and water.
HD Foundations is contractor that offers Irving homeowners a solid guarantee on house leveling service.
Why It's Importance To Level Your Foundation:
It protects your house property value. Don't allow your foundation to deteriorate.
Structures with unlevel foundations are dangerous. Even small slopes that are 1/2" or less can be a concern.
If you don't preserve your foundation, the damage will become increasingly worse.
The longer you wait to fix your structure, the more costly it becomes to make repairs. The average cost of house leveling ranges between $3,500-$6,500.
If your foundation isn't even, it may cause plumbing leaks.
Call For A Free Foundation Evaluation. Get A Lifetime Warranty.
It pays to hire a highly rated company who stands behind its foundation repairs. If the concrete or steel piers we install need to be adjusted in the future, we'll fix them. For a thorough 45 minute inspection on your house, schedule an Irving foundation repair estimate/evaluation today. Or, just call our company today.