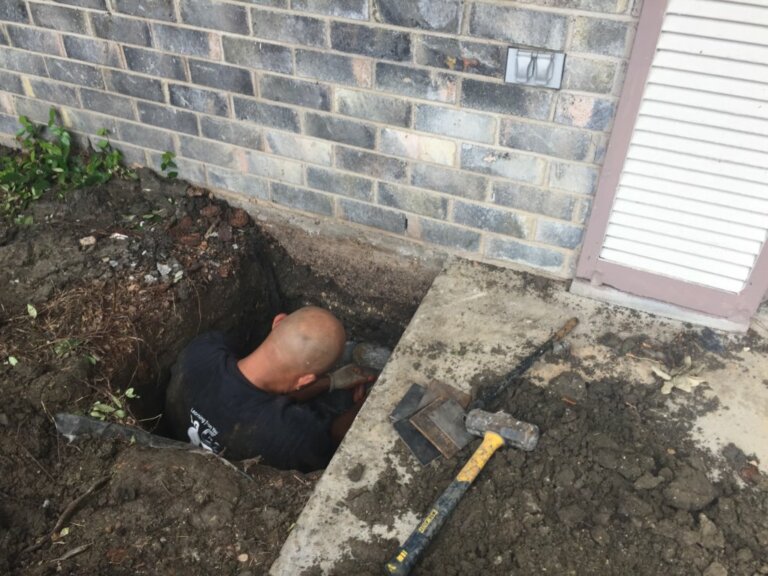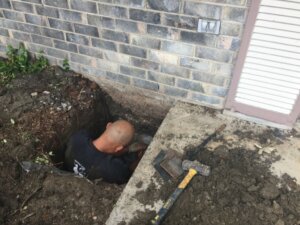 Homeowners often wonder about slab foundation repair costs. It's important to remember that fees in North Texas are figured based on a number of things, including how much deterioration has set in and how many foundation piers must be installed. Due to the area's climate conditions, concrete slab foundation repair is commonly performed in the northern part of the state.
On average, the slab foundation repair cost ranges between $3,500-6,500. Prices for repairing severely cracked or sloping slabs can exceed $10,000. Since the concrete slab foundations constructed for houses are considerably smaller than commercial structures, they cost less to fix.
Since foundation issues can add up, it's important to have a contractor evaluate your property. You may want to learn more about the foundation repair costs involved with concrete slab foundations. Recognizing that the number of piers that must be installed directly affects the price, a contractor must determine exactly how many foundation piers you need. These structures and other factors impact cracked slab foundation repair cost estimates.
Factors That Impact Concrete Slab Foundation Repair Cost
Several factors significantly impact the cost when you have slab foundations maintained, replaced, or repaired. Consult with your contractor to know which of these elements can cost you, which will help you determine cost-saving measures while ensuring the structural integrity of your property.
It is important to note that the figures mentioned below are only average estimates. The actual cost to repair your home's foundation will vary. For this reason, it is best to consult a professional foundation repair contractor for a more accurate quote for your project.
Size of Your Home
The larger the size of your home, the heavier the weight the foundation is made to bear. In addition, contractors need to use more complex foundation architecture to ensure the stability of the foundation, which also means using more materials and equipment for the project, raising the costs.
Foundation Type
Based on your home's foundation type, the necessary repairs, such as those for crawl spaces, cinder blocks, concrete slabs, and basements, will vary. The cost to repair each type of foundation will vary since some options are more expensive and complex than others.
Here are some average cost estimates per foundation type:
 

| | |
| --- | --- |
| Foundation Type | Estimate Cost |
| Basement | $2,300 to $7,600 |
| Concrete Slab | $350 to $20,000 |
| Cinder Block and Brick | $350 and $25,000 |
| Pier and Beam | $700 to $25,000 |
| Stem Wall | $350 to $20,000 |
Foundation Settlement
The soil on which your home is built tends to shift, contract, and expand in time. Some soil types are more stable than others, which will come into play concerning the concrete slab foundation repair cost. 
Soil Stability
In some cases, support structures need to be buried deep in the ground due to unsettled soil, which can increase the repair costs. The less stable the soil is, the greater the potential costs can be.
Cause of Foundation Issues
The cause of the problem can also impact the cracked slab foundation repair cost. Different underlying problems will require various approaches and techniques to fix the foundation, and some of these options may be more costly. Some of the most common causes that can impact the cost include:
Soil erosion

Sinking

Shifting

Cracks

Bowing
Working with a seasoned contractor or skilled engineer is best to determine the potential causes and the essential cost to resolve foundation problems.
Repair Type
As mentioned, some repair options require more materials, manpower, and equipment. The more sophisticated the repair procedure becomes, the more costly the project becomes.
Problem Severity
The severity of the issue and the amount of damage caused will directly influence the cost of repairs. For instance, minor problems like hairline cracks will be easy to fix and cost less. However, in worse-case scenarios, some homes must be abandoned and rebuilt, which will be very costly for any homeowner.
Permits
Another cost factor is the necessary permits you must secure before repair work can commence. These permits can be obtained from local municipalities and city governments. You can work with seasoned foundation repair contractors to secure these permits. The expenses will then be added to the overall cost you need to pay at the completion of your repair project.
Accessibility and Labor Cost
Labor costs and the accessibility of your foundation directly correlate to the expenses due to foundation repair. If your foundation has sufficient crawlspaces, repair costs for the project will be reduced.
Cost of Materials
Aside from labor costs, you will incur material expenses, adding to the overall slab foundation repair cost. On average, epoxies and other sealants can cost you $1.25 to $12 per square foot. Cement can cost you $125 to $185 per yard on average. Some of the most expensive materials include waterproofing, which costs $2,000 to $7,000 on average, hydraulic piers ($1,000 to $3,000 per pier), and steel reinforcements, ranging from $4,000 to $12,000 for a dozen pieces.
Costs by Repair Method
Certain repair methods are more expensive than others since some are more complex and require additional tools and man hours. Here are some cost estimates by repair method:
| | |
| --- | --- |
| Repair Method | Cost |
| Foundation Sealing | $2,000 to $7,000 |
| Wall Stabilization | $4,000 to $12,000 |
| Piering or Basement Underpinning | $1,000 to $3,000 per pier |
| Foundation Jacking | $600 to $1,600 |
| Foundation Lifting | $20,000 to $23,000 |
| Mud-Jacking or Slab-Jacking Costs | $4-6 per sqft |
| Crack Repair | $250 to $800 |
| Leak Repair | $2,000 to $7,000 (depending on the severity of leaks) |
| Stabilization and Reinforcement | $4,000 to $12,000 |
Other Cost Factors
Aside from materials, repair methods, labor costs, soil conditions, and type of foundation, other factors can increase the cost you must pay to repair your foundation. These factors include extra services that will be added to the overall price necessary to improve your home's foundation.
Sealing:

Foundation sealing keeps moisture out, protecting your foundation from future damage. This service can cost you around $2,000 to $6,000, including professional services and materials.

Soil Report:

Geotechnical engineers perform soil reports, revealing the condition of the soil underneath your home. This service can cost $500 to $3,000 on average.

Structural Report:

Engineers can inspect your home's foundation, which helps to determine its structural soundness. This added service can cost $300 to $1,000.

Insulation:

This added cost-saving measure makes your home more energy efficient. Insulation labor and material costs range from $1.50 to $3.50 per square foot.

Foundation Replacement:

This procedure requires lifting your home (costing $20,000 to $23,000) and a complete foundation replacement, which can cost an additional $20,000 to $100,000.
How to Minimize Slab Foundation Repair Costs
To keep costs down, inspect your slab foundation and make any necessary repairs as soon as possible. Wind, weather, and other things can cause foundation trouble that may or may not be expensive to fix. One way to lower repair prices is to quickly inspect your foundation and see if you notice any slab cracks.
You may discover that your floors aren't level or your doors don't close correctly. If that's the case, it's best to put an end to any slab foundation repair issues quickly. Since the amount of problems you have will affect the cost of repairs, contact a professional contractor like HD Foundations and have them evaluate your foundation.
Remember: If you see indications of the following, you may have slab problems: 
(1) Sizable foundation cracks can indicate that your foundation is badly damaged.
(2) A severely tilted slab foundation could mean you require a large number of piers around the foundation. This would increase the cost of fixing your slab foundation.
(3) Massive settling or other foundation problems can also affect the time involved in servicing your foundation. That's because slabs that are heavily damaged frequently require more time to repair.
Other Things Affecting the Cost of Repairs
If your slab foundation is extremely damaged, a significant number of foundation piers may be required to fix it. When attempting to figure prices, you must take into account the extent of damage to your slab.
Commercial properties with broken or uneven slab foundations can cost well over $20,000 to fix if issues multiply. The size of a structure and many other things can have an effect on a slab foundation repair cost. If your structure is large, a North Texas area contractor must adjust their fees accordingly.
Interior foundation piers are more expensive to install than exterior others because there is more labor involved with cracking a concrete slab. Foundation piers installed around the perimeter don't require damaging the slab. In the final analysis, the final price will be impacted by how massive the foundation project is and how many foundation piers are needed.
Tips to Save Money on Foundation Repair Projects
As you can see from the estimates provided earlier, the cost to repair your home's foundation can add up quickly. The foundation of your house offers structural stability and ensures the safety of your home. Consider the above-mentioned costs as investments, providing you with peace of mind.
However, homeowners will want to save money on these repairs. Here are a few tips that might help you reduce costs and get more for every dollar you're paying:
Sign Up for Free Inspections:

Some contractors charge for foundation inspections. You can avoid this expense by looking for professionals who provide free inspections. You can use the report they provide to estimate the overall cost of repairs.

Get Quotes from Different Contractors:

After getting the report from your free inspection service, you can forward copies of that document to at least three contractors in your area. Ask relevant questions regarding their cost estimates to ensure you have all bases covered. Compare the quotes and determine which contractor gives you more for every cost you pay.

Prioritize Critical Repairs:

You don't have to repair every issue with your foundation. You can skip minor problems and focus on the critical ones that severely impact your home's structural integrity. Start fixing the major issues and then move on to minor problems when you have the budget.

Ask for Temporary Solutions:

If you're dealing with only minor issues and don't have the budget for a complete repair, you can request temporary solutions. You can have these issues repaired completely during routine maintenance.

Create a Payment Plan:

Some contractors will offer payment contracts and long-term payment plans with interest. Entering into a staggered payment agreement will cost you more in the long term due to certain charges you may incur. However, it may be a viable solution, especially if you're dealing with a severe issue with your home's foundation. The important thing is that you can have your home repaired entirely and work out the partial payments as you go along.
One of the best ways to reduce foundation repair costs is to detect problems early. Homeowners can conduct routine inspections of their home's foundation, drainage, gutters, and other essential areas. Finding cracks and other potential signs early on will allow you to get professional help fast, so you don't have to incur costs for major repairs.
Work with Foundation Repair Specialists from HD Foundations
If you have concerns, contact HD Foundations and schedule a free slab foundation repair cost estimate online today. We service the entire Dallas, Fort Worth area.