Learn 6 good reasons why you should hire HD Foundations, a foundation repair company in the Dallas, Fort Worth, TX metroplex. For one thing, we're an A+ rated Better Business Bureau-affiliated company that services concrete slab and pier and beam foundations. Contact HD Foundations today. We're contractors that serve North Texas cities including Dallas, Fort Worth, Plano, Mesquite, Garland, Grand Prairie, Mesquite, Frisco, Colleyville, Lewisville, Euless, Bedford, Richardson and many other area cities.
6 Good Reasons Why You Should Hire HD Foundations Repair Company? 
Our Experience – At HD Foundations, we're contractors that have the expertise required to correctly repair your foundation. We have extensive experience working with expansive clay soils in the North Texas area. In fact, house leveling is something we're well known for. When you hire HD Foundations, you can rest easy. Over the years our company has repaired thousands of foundations on houses and other residential properties in Tarrant County, Dallas County, Collin, Ellis County and beyond. Whether you have a slab foundation or a pier and beam structure, we can repair your foundation and make it "Texas Strong." We also perform crawl space repair on houses with pier and beam foundations.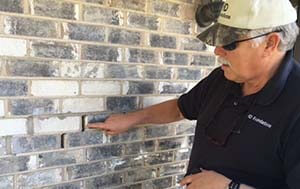 Our Affordable Foundation Repair Costs: The prices that HD Foundations charges its customers are fair and reasonable. When hiring a foundation repair contractor, you shouldn't have to spend an exorbitant amount of money to fix your foundation. HD Foundations seeks to minimize costs without compromising quality.
Our Company Installs Pressed Concrete Foundation Piers And Steel Foundation Piers: If you need long lasting pilings, HD Foundations can help. We use interior and exterior pressed foundation piers to make structures even and stable. It's part of our house leveling service. Whether you require concrete piers or steel pilings, we can place them under and around your foundation.
Why Our Foundation Repair Company Is BBB Rated A+:
HD Conducts Thorough Foundation Evaluations: Before we begin repairing structures, HD Foundations carefully inspects them to determine if they need repair. Very small foundation cracks or slight movement in your foundation is not necessarily an issue. If you do require foundation repair service, we'll let you know what's involved. We'll also let you know what it will cost to do. Price is generally based on the extent of foundation damage you have. The number of foundation piers that must be installed around your slab or pier and beam foundation are a cost consideration, too.
Our Foundation Drainage Systems Are Effective: In the event rainfall or other forms of moisture are causing foundation problems, you can count on HD Foundations to install a foundation drainage system that will effectively direct water away from your foundation. Property owners recruit HD Foundations for this reason a lot. Our systems prevent foundation damage.
HD Offers A Lifetime Foundation Repair Warranty: We guarantee our work. When you hire HD Foundations, you'll receive a lifetime foundation repair warranty.. If your foundation needs to be adjusted down the line, you'll enjoy the peace of mind afforded by this excellent warranty. Ask about our limited transferrable warranty, too.
Get Repair Estimates Free:
To find out why we're the best and learn more good reasons why you should hire our company, contact HD Foundations about foundation repair service today. If you're in the Dallas, Fort Worth metroplex, just call us. Or, obtain a free foundation repair estimate by scheduling one online today.