Foundation Repair
Plano, TX
Call HD For Foundation Repair In Plano. We're Specialists Who Can Help.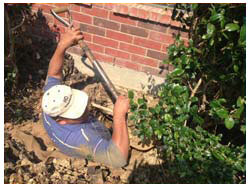 Require foundation repair in Plano? Companies like ours restore foundations and stop foundation damage. If you live in the Plano area, contact our locally owned business about foundation repair today. We service house foundations all across the DFW metroplex. As foundation experts, we put an end to cracks and other foundation problems.
Why The Need For Foundation Repair In Plano:
House foundations in this particular area commonly experience foundation movement. This is due to the clay soils they're positioned on. The earth in this region is very active and deep. Volatile clay soils are known for swelling when they're wet, and shrinking when they're dry. Because they continually expand and contract, they cause structural foundation damage. This includes slab foundation cracks. It's important to stop this movement because it harms house foundations. This is true in Plano and nearby cities. Find out about the house foundation repair process HD Foundations uses when fixing structures. By installing pressed concrete foundation piers or steel foundation piers, your structure can be stabilized. Interior/exterior piers are installed to the point of refusal. This could be 12-16 feet deep or more, depending upon the soil beneath your foundation.
The climate in this area has a profound affect on foundations. It can lead to foundation cracks. Droughts, 105 degree weather and heavy rainfall all create issues. Learn more about hot weather, cracks, and foundation repair. It's not uncommon for house foundations and other residential structures in Plano to need foundation service as a result of settling. These problems can be caused by extreme heat or moisture. Portions of the DFW area receive approximately 35″ of rainfalls annually. In 2018, the area received over 65″ of rain. Flooding causes foundation heaving, too. This can force the foundation of your homes upwards by as little as 1″ or more than 4″. Structural engineers consider moisture to be one of the biggest causes of foundation trouble. Because it softens a concrete slab and causes deterioration, it's common for property owners in Plano to discover that they need house foundation repair service.
Plumbing leaks (including under slab leaks) are another source of concern. Sometimes they can go unnoticed for years and do massive damage. It's imperative that theses leaks be fixed right away. Over time they will cause slab foundations to break. They can destroy pier and beam foundations and crawl spaces, too. That's because moisture leads to wood rot, sagging floors and other problems. Leaks severely affect foundations. They create large cracks and hairline fractures in house foundations all over the metroplex, including Plano. Foundation repair must often be performed on slab foundations as well as pier and beam foundations simply because of breaks in plumbing pipes. Broken sanitary water systems and sewage lines can result in the need for costly repairs. This could have a major impact on your residence.
The Types Of Problems Foundation Repair Specialists Resolve: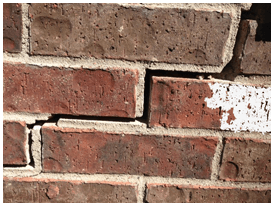 Companies such as HD Foundations end issues such as foundation shifting, sheetrock cracks, exterior gaps, stuck doors, gaps around windows and foundation cracks. Sloping floors, crooked chimneys and out of level counters are other problems contractors can stop. Remember: gaps less than 1/8″ wide can lead to real trouble. House leveling is highly effective when Plano homeowners enlist an experienced foundation repair contractor.
Broken tiles, uneven door frames and crevices around windows and doors are another form of trouble that professionals resolve. Sometimes minor problems are fixed by installing or adjusting foundation shims while servicing house foundations in the Plano area. This is something commonly done by foundation repair companies. To do this, contractors use 3/8″ stainless shims to lift houses. Plano contractors use them when repairing concrete slabs and pier and beam foundations all across the DFW metroplex.
Wet crawl spaces and squeaky, sagging floors associated with pier and beam structures are another issue that we can deal with effectively.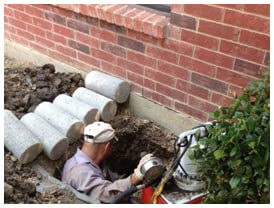 Why We Can Stop House Foundation Damage:
We're a top-notch family owned business that has 17 years of experience. Our Plano foundation repair company specializes in restoring house foundations. HD Foundations has the know-how required to stabilize foundations positioned on rugged North Texas soils. The ones in Plano are no exception.
HD has an A+ BBB rating for fixing slab foundations and pier and beam foundations. We're local contractors that are very careful when repairing both types of foundations.
We use advanced equipment (a carefully calibrated Ziplevel) to measure the level of your home. The instrument is very precise. By properly measuring your foundation elevations, we can make sure your house foundation is even, strong and stable.
You'll receive a solid guarantee. Find out more about the lifetime foundation repair warranty on pressed concrete foundation piers or steel pilings. This guarantee protects against future foundation problems and structural damage.
We provide evaluations at absolutely no charge to you.
 Call For A Free Foundation Evaluation/Estimate:
If you think it may be time for repairs, ask the foundation experts at HD Foundations to stop by. Our professional foundation inspections take about 45 minutes to perform. There's no reason to delay in protecting the foundation on your home. If you live in or around Plano, foundation repair evaluations/estimates can be scheduled free. Our company offers residential service all across the DFW metroplex. Contact us for a no-cost estimate today.
HD Foundation Repair
6860 Dallas Parkway, #200
Plano, Texas 75024
Phone: (972) 381-2764