Foundation Repair
Fort Worth, TX
Call HD Foundations For Foundation Repair. Our Company Stops Foundation Issues. Get Free Estimates.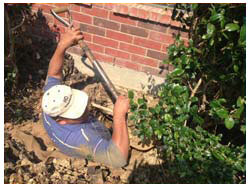 Need foundation repair in Fort Worth? We're a company that halts foundation trouble and offer a great lifetime warranty. Contact HD Foundations for a free estimate. We're service the entire DFW metroplex. Count on us if you have foundation repair issues.
Why Choose HD Foundations For Fort Worth Foundation Repair?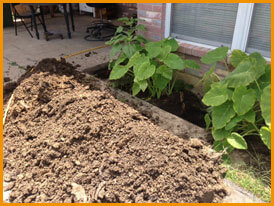 We lift concrete slab foundations and pier and beam structures correctly. HD uses state-of-the-art equipment to measure elevations before and after foundation piers are installed.
We're a residential foundation repair company that has serviced Fort Worth and Tarrant County for 17 years. We have extensive experience dealing with expansive clay soils.
HD Foundations is A+ rated by the BBB (Better Business Bureau).
We offer free estimates on foundation repair.
We stop foundation cracks, brick cracks and sticking doors issues commonly associated with concrete slab foundations.
Our company eliminates wet crawl space damage related to fungus, mold, and mildew. Our crawl space repair techniques help restore pier and beam houses.
HD's lifetime foundation repair warranty is as solid as our work. It protects against structural foundation damage for years. Whether you require house leveling service, crawl space repair or foundation shims, you can rely on us.
How Our Forth Worth Foundation Repair Company Ends Problems: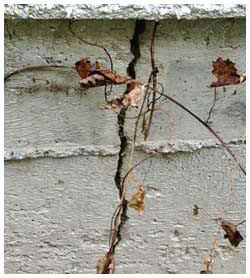 We use a piercing system to install both interior and exterior pilings. They stop foundation movement and stabilize homes.
We place these structural supports beneath houses in areas where the soil is 12-30' deep or more. They're effective in terminating fractures and they prevent sinking and foundation settling.
At HD Foundations, we make repairs by installing cylinders to the "point of refusal" or the point of bedrock, depending on which piercing system we use. Learn more about when foundation repair is necessary. 
We replace wooden beams and install block and base supports where needed on pier and beam structures.
We re-shim foundations on pier and beam foundations when necessary.
Get Foundation Repair Estimates And a Lifetime Warranty.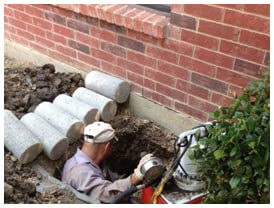 If you have issues and think foundation underpinning may be the answer, find out about our great guarantee.
As foundation experts, HD Foundations services houses and a wide variety of structures, and performs thorough 45 minute foundation evaluations. When you require a Fort Worth foundation repair company, we can help. If you're a homeowner, contact us today for a free foundation estimate anywhere in the DFW metroplex.