Arlington Foundation Repair
HD Offers Foundation Repair in Arlington, TX. Our Company Stops Cracks And Offers A Lifetime Warranty.
For foundation repair in Arlington, call HD Foundations. We put an end to cracks and other foundation issues. As contractors who service the entire DFW metroplex, we know how to stop foundation damage. If you think you may need Arlington foundation repair service, contact us today for a free foundation evaluation. We offer a lifetime warranty and have an A+ Better Business Bureau rating.
Reasons Arlington Foundation Repair Service Is Needed:
Sometimes repairs are required because a concrete slab foundation was incorrectly poured during construction.
Structural foundation damage can become a concern when a home is built on poorly compacted soils.
Expansive clay soils in the Arlington area expand and contract. This causes major foundation problems including sinking and settling.  It also leads to foundation movement in concrete slabs and pier and beam foundations.
Heavy rains and flooding in the metroplex is a concern. (In spring of 2019 the city experienced torrential downpours.) Moisture can create soil erosion and even force a foundation upward. This is referred to as "upheaval."
High temperatures can cause soil to pull away from a foundation. This ultimately results in foundation settling and cracking. Read about hot weather, cracks, and foundation repair. If you're a homeowner in Arlington, it's important to water your foundation during the summer months. Older homes are more likely to have foundations issues and become out of level. That's because they've endured severe weather for a long period of time.
Plumbing leaks can cause massive deterioration, particularly in concrete slabs. The source of these under-slab leaks must be located and fixed in order to avoid cracks in your foundation. The area beneath pier and beam foundations can become moist and moldy, too. In that case, crawl space repair is sometimes the solution. If your foundation is sinking or settling, or you have other concerns about your Arlington area home, find out when foundation repair is necessary. 
Trees planted too close to houses can severely damage a foundation. Invasive roots from a large tree can suck up to 200 gallons of water out of the soil per day. A smaller tree could remove 50 gallons or more. This will make the ground beneath your home dry. For that reason, be sure to plant them a safe distance away.
Common Indications Of House Foundation Issues:
Cracks of all types could indicate trouble. This includes slab foundation cracks, exterior brick and floor crevices, and gaps in sheetrock or around windows.
Sinking or sloping in a foundation is an issue for many property owners in Arlington. The repair process we use on homes will eliminate this concern. Plus you'll receive an excellent lifetime foundation repair warranty.  It's not uncommon for foundations to be uneven by 1-3". Settling generally occurs in one particular area of your foundation first. Over time, the damage spreads to other parts of a house. Fortunately, our Arlington foundation repair company can make any necessary repairs before the situation gets worse.
Doors that don't open and shut correctly could mean trouble. Doorframe sometimes become crooked.
Leaning or cracked chimneys or sloping areas around fireplaces should be examined. They can pose a real danger.
Squeaky floors in pier and beam structures are often an issue, as are dips in the flooring or soft spots. In some cases, re-shiming the foundation is all that's required to make a pier and beam house level again. We install shims under homes with concrete slabs, too.
About Our Foundation Repair Methods:
At HD Foundations, we commonly install pressed concrete foundation piers in order to effectively repair slabs foundations or pier and beam structures. Using a hydraulic pressing machine, these approx. 10" tall pilings are driven into the ground to the "point of refusal." The interior or exterior piers are stacked one on top of the other. After that, a concrete cap is placed on top of each pier, a bottle jack is inserted between the foundation and the cap, and steel shims are placed on top of the cap. Shims are added until the desired elevation is obtained. When the foundation repair project on your Arlington area house has been completed, the bottle jack is removed. 
Pressed steel foundation piers are another excellent option. They are more costly than concrete piers, but they can be driven further into the ground. They're installed to the point of bedrock which can easily be 25'-30' or more. An experienced contractor like HD Foundations can tell you which type of pier is best for you.
 3/8" steel shims are also utilized when re-shimming pier and beam structures.
Schedule A Free Foundation Estimate And Learn Preventative Maintenance Techniques
At HD Foundations, we welcome the opportunity to evaluate your foundation and provide you with some helpful advice. To schedule a free estimate for foundation repair in Arlington, contact us today.

HD Foundation Repair
801 Secretary Drive
Ste. J
Arlington, TX 76015
Pier and Beam Foundation Repair Arlington, Texas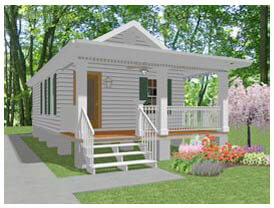 Do you have pier and beam foundation issues in Arlington, Texas? In the event you're having trouble, contact HD Foundations. The professionals at HD Foundations have vast experience with all kinds of problems. We're recognized for our ability to properly repair houses built on pier and beam foundations. It's important to learn signs of foundation issues so you are able to maintain the value of your property. We provide free estimates, so don't hesitate to contact us today!
Signs of Foundation Issues
The many common indications of foundation trouble include these four things: (1) sagging floors (2) walls that are splitting (3) cracks in floors and ceilings and (4) floors that aren't level. Chances are that if you see any of these indicators, your house may need service. At HD Foundations, we warranty our repairs so you can be certain that you're receiving quality work, and your pier and beam foundation issues are resolved.

Repair Cracks in you Pier and Beam Foundation
To preserve your foundation, we can help you repair cracks and structural problems. As contractors working in Arlington with years of experience, repairing the cracked foundations on pier and beam houses, apartments and commercial properties, we know how to deal with serious foundation issues. Fact is, we're qualified to fix your foundation. The pros at HD Foundations have the knowledge required to mend fractures correctly, lift sagging floors, stabilize beams and more.  It's important to fix any fissures that you may see in your property before they get worse. If you require foundation piers, we can install concrete or steel pilings and make your structure level.

About Pier And Beam Foundations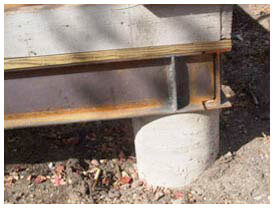 There are many benefits to having this style of foundation. The advantages include the following three things: (1) they provide for quick access to utilities because of their crawl spaces (2) their floors are are somewhat flexible, making them easy to walk on and (3) they can be less expensive to repair than other foundations. Of course, pier and beam foundations have some disadvantages, too. These issues include: (1) their crawl spaces are prone to getting damp (2) rodents and insects often nest below them and (3) termite infestations can occur. Of course, problems are common in all types of foundations.
If your house has cracks or other issues, get free pier and beam foundation repair estimates by contacting us today. Ask about the lifetime warranty we offer on our repairs. And remember, HD Foundations has a great rating with the Better Business Bureau. So why wait? Call us today!
Slab Foundation Repair Arlington, TX.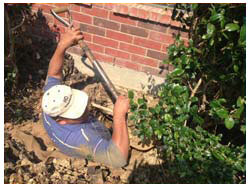 If you have cracking, or other issues with your slab foundation, contact HD Foundations today for a free estimate. We'll evaluate your structure, free of charge, and give you an honest estimate on what needs to be done to fix your foundation. At HD Foundations, we offer slab foundation repair in Arlington, Texas.
 What is Slab Foundation Repair.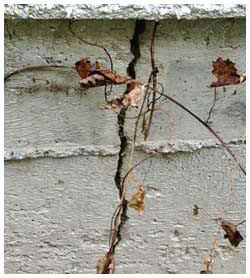 There are many common issues with slab foundations, including cracking, bending and settling. If you believe your foundation is no longer level and may have some of these issues, it could be that your concrete slab is sinking into the ground. It's important to note that concrete slabs are  3"-4" thicker at the edges than they are at the center, and are reinforced with strong steel cable. Nonetheless, it's one thing to have cracks that are 1/16" wide, and a whole different thing if cracks are 1/2" thick. In the event you see cracks in your concrete slab, it's best to take preventive measures as soon as possible. To stop slab damage, protect your home by contacting us at HD Foundations.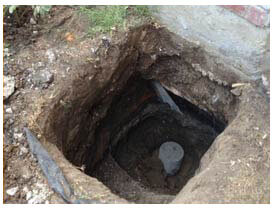 Get Accurate Quotes For Slab Foundation Repairs.
When considering slab foundation repair, it's important to obtain a free estimate by qualified professionals. When working with us at HD Foundations, we will provide you with a free estimate that outlines what the repair costs are based on your particular situation. Pricing for slab foundation repair in Arlington, Texas are based largely on the number of interior or exterior foundation piers required to elevate your foundation, as well as the extent of the crack damage you have. As a part of our free estimates, we provide you with a cost breakdown so you know exactly what you're paying for. Small residential projects may cost less than $3,000, while the slabs on excessively damaged foundations could cost more than $15,000 to fix. Any estimated repair prices we provide to you will also include the cost for installing any concrete or steel piers. If we determine that your property would benefit from a foundation drainage system around your slab when fixing your structure, we'll provide you with estimates for installing that as well.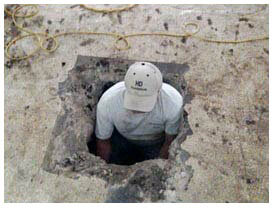 Why Leveling Helps Slab Foundations.
House leveling can be helpful because it makes your slab foundation even, and restores your foundation to its normal position. It also helps you avoid costly slab crack issues that require repair. So if you need slab foundation leveling, ask us to inspect your damaged structure. Just go online today and to schedule a free slab foundation repair estimate on your house, commercial structure or apartment. We're experienced contractors with an A+ (BBB) Better Business Bureau rating.