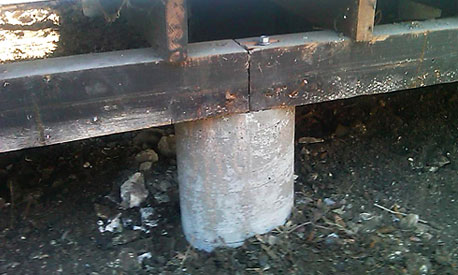 Updated 8/23/2023
Pier and beam foundations are extremely common because they provide stability and durability in changing soil conditions. Although they are generally stable, these foundations can still deteriorate over time. When that happens, homeowners can face various issues that threaten the structural integrity of their homes. This is why it's essential to familiarize yourself with the common foundational problems you might encounter with pier and beam foundations to know what to expect.
What Are Pier and Beam Foundations?
Pier and beam foundations are a type of foundational structure used in residential and sometimes commercial construction. This foundation type has been a popular choice for builders as they offer a distinct approach to supporting a building above the ground.
As the name suggests, pier and beam foundations comprise two main components: piers and beams. Piers, also known as piles, are vertical structural elements that support a building by transferring its weight to the ground. They are typically made of concrete or masonry and are strategically placed beneath load-bearing points, such as corners and wall intersections. 
On the other hand, beams are horizontal structural elements that rest on top of the piers. Running parallel to the ground, beams provide a framework to which the rest of the building's structure is attached. These elements distribute the weight of the building evenly across the piers, preventing concentrated pressure points that could lead to uneven settling.
Combined, both structural elements create one of the most widely adopted foundations in regions with high water tables or prone to flooding. Although their usage has decreased through the years, they remain one of the most reliable foundation types in construction.
Types of Pier and Beam Foundations
There are several types of pier and beam foundations, each catering to different needs and soil characteristics. The following are some of the most common:
Concrete (Masonry) Piers:

Utilizing solid concrete piers, this type depends on load-bearing strata within the soil. They are a common choice when solid soil is relatively close to the surface.

Drilled Caissons:

These concrete piers, shaped like cylinders, are reinforced with steel and can be drilled deep into the soil until they reach bedrock. They offer stability for larger structures.

Concrete Blocks: A more straightforward approach involves using concrete blocks and cement for constructing pier and beam foundations.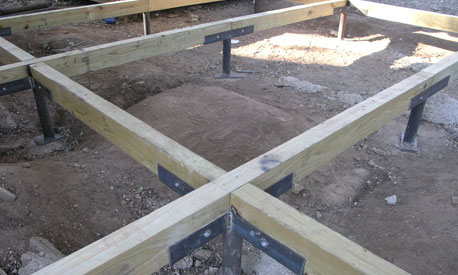 What are the Most Common Pier and Beam Foundation Problems?
Although pier and beam foundations are known for their durability and robustness, structural issues and challenges are not uncommon. Various factors can impact the integrity of the foundation. These include soil movement, moisture infiltration, poor construction and natural wear and tear.
Sagging Floors and Shifting Beams
As your structure undergoes sinking or settling, a cascade of issues can emerge. Among these, sagging floors and shifting beams disrupt the integrity of the entire building. To counteract this, the installation of shims, piers, and foundation supports becomes crucial. These measures help realign and bolster the foundation, restoring stability and preventing further damage.
Tilting Piers and Building Issues
The tilting of piers can give rise to foundation failure, as it initiates the movement of supporting beams. To mitigate this risk, a sound solution involves stabilizing all foundation piers. The foundation's integrity can be preserved by addressing the underlying cause of tilting and employing techniques to secure the piers in their intended position.
Cracking Exterior Piers
The deterioration of exterior piers can manifest in door frames becoming misaligned due to the shifting of piers or beams. This is a common challenge inherent to these foundation types. Addressing this concern necessitates the installation of shims and the introduction of new beams. Ultimately, the solution often involves replacing compromised exterior piers to restore the foundation's equilibrium.
Poor Construction
Regrettably, poor construction practices frequently plague pier and beam structures. The solution to rectify this issue lies in raising the foundation and joists. Enhancing the foundation's elevation and addressing construction deficiencies can reinstate stability, providing a solid basis for the entire building.
Damp Crawl Space
Pier and beam houses commonly contend with moisture-related problems in their crawl spaces. The emergence of complications like these requires decisive action. A reliable solution entails the implementation of a foundation drainage correction service. This addresses the root cause of moisture infiltration, preventing further damage and preserving the foundation's integrity.
Mold and Mildew in Beams
The pervasive mold and mildew in beams pose a significant threat to wooden components. These issues compromise the structural soundness of beams and joists. To tackle this challenge, extracting and replacing the affected wooden members is imperative. Additionally, shimming may be required in these buildings to ensure proper support and alignment.
What Is Pier and Beam Foundation Repair?
Pier and beam foundation repair is a specialized process that aims to address potential problems. Foundation repair specialists employ various techniques to address these common issues to restore stability in the foundation and enhance its longevity.
Here are some common fixes used by experts to repair these types of issues:
Reshimming –

When beams or joists shift or become loose, gaps form between them. Small wood pieces, known as shims, are carefully put between the piers and beams during the reshimming operation to close these gaps. Shims give further stability, bring the surface back to level, and stop further movement.

Repairing or Adding New Piers

– The piers that support the foundation may deteriorate over time for a number of reasons, such as soil settling and moisture exposure. It becomes required to fix or replace damaged piers in order to keep the foundation stable. In some circumstances, extra piers could be carefully constructed to spread the weight of the house equally and avert further issues.

Replacing Beams –

Wooden joists and beams, which are necessary parts of pier and beam foundations, are prone to mold growth and dry or wet decay. Professionals in foundation repair must gently disconnect the compromised beams when such deterioration happens. This often involves rebuilding non-affected beams while sustaining the home using specialized tools. By following this approach, the foundation will be kept stable during the replacement process.

Crawl Space Jacks –

Foundation repair experts may use steel support jacks to remedy weak joists or beams in a crawl space. These jacks are positioned purposefully to deliver focused support and lifting, successfully restoring the integrity of damaged structural components.

Underpinning –

Underpinning is a method for addressing settlement, a problem that frequently affects pier and beam foundations. Experts can bring the sinking crawl space back to the ideal level using either push piers or helical piers, depending on considerations including access and the weight above the foundation. In order to stabilize the foundation, these piers are pushed far into the soil until they reach stable strata.
How Long Does a Pier and Beam Foundation Last?
The lifespan of a pier and beam foundation can vary based on several factors, ranging from the quality of materials used to the local environmental conditions. While they are known for their durability, it's important to understand the key elements that influence their longevity.
Soil Type:

The type of soil upon which the foundation is built plays a significant role in determining its lifespan. Stable and well-draining soils tend to offer better support to the foundation. In contrast, expansive or poorly compacted soils can lead to shifting and settling over time.

Materials Used:

The quality of materials used during construction significantly impacts the foundation's lifespan. High-quality concrete piers, beams, and other structural components are more likely to withstand time than subpar materials.

Maintenance and Repairs:

Regular maintenance and timely repairs can extend the lifespan of a pier and beam foundation. Addressing minor issues before they escalate into major pier and beam foundation problems can help prevent structural damage and maintain stability.

Moisture Control:

Moisture is a major factor influencing the longevity of pier and beam foundations. Excessive moisture can lead to wood rot, mold growth, and other issues that compromise structural integrity. Proper drainage, ventilation, and moisture control measures can significantly prolong the foundation's lifespan.

Regional Climate:

The climate of the region where the foundation is located also plays a role. Areas with extreme temperature fluctuations, high humidity, or frequent freeze-thaw cycles can place additional stress on the foundation.
Generally, a well-constructed and adequately maintained pier and beam foundation can last decades. It's not uncommon for these foundations to remain stable and functional for around 75 years or more. However, this timeline can vary based on the factors mentioned above.
Regular inspections by foundation professionals can help identify signs of wear and tear early, allowing for proactive repairs that can extend the foundation's life. Signs of potential issues include:
Uneven floors.

Gaps between piers and beams.

Cracks in the walls.

Moisture-related problems in the crawl space.
Get Expert Help With Foundation Repair With HD Foundations
The foundation repair process with a pier and beam foundation differs from that of a concrete slab. This is why it is important to seek help from a qualified expert to ensure your foundation problems are resolved the right way. 
For expert pier and beam foundation repair service, call HD Foundations for assistance. Whether you require pier and beam or slab foundation repair, our professional foundational repair experts offer a tailored service that restores the structural integrity of your foundation. Get in touch with our experts today!