While it's unlikely that earthquake foundation damage in Irving, and Dallas, Fort Worth (DFW) was caused by tremors in 2015, foundation repair problems do occur due to things other than earthquakes. To find solutions, you'll want to ask HD Foundations to perform a foundation inspection on your house. Small tremors create less destruction than many other forces. It's important to learn about foundation damage from earthquakes, and what causes problems. After all, tremors could necessitate repairing your foundation someday.
How Earthquake Foundation Damage Is Caused:
It could be created by many things. Destruction in the Irving and Dallas, Fort Worth area could create cracking, causing plumbing pipes to break (resulting in under slab plumbing leaks), and necessitate repairing foundation cracks, slab damage and other forms of destruction. Earthquakes are powerful. This is particularly true of slab foundations. To find out more, you may want to review the causes of foundation damage. Keep in mind that earthquakes cause the soil beneath the foundation of your slab to shift from left to right, as well up and down. As the soil shakes and creates fractures that expand, this makes the foundation beneath your house move. When the movement in the earth is strong or repetitive, earthquake foundation damage occurs, and the tremors it creates can cause your foundation to break apart, and cease to be level. When your house is not level, all kinds of problems develop, including leaks in your plumbing system and safety issues. If this is the case, your pier and beam home or slab structure may need foundation repair. You'll want to deal with these issues right away.
Why Haven't Tremors Destroyed My Foundation?
It's unlikely that they caused any recent damage in the Irving and Dallas, Fort Worth, TX area because the earthquakes that occurred in 2014 and 2015 created minimal soil movement under houses. Concrete slab foundations were not affected, so foundation repairs weren't needed due to any foundation damage from earthquakes or related problems. During the recent local earthquakes (that took place in 2014 and 2015), only a small amount of destruction took place, and slabs foundations and pier and beam structures in the DFW, including houses and apartments, were not impacted. According to reports, the motion of the earth resulted in little or no damage at all. The same is true of the almost 100 quakes that have shaken the earth in the Fort Worth Basin since 2008. Even then, repairing concrete slabs was not required because of these issues. It is much more likely that weather and expansive clay soils are at fault for any slab foundation cracks you see, not tremors.
To find out more, review this information on foundation problems in North Texas. It applies to pier and beam foundations that have been damaged, as well as slabs made of concrete. Deterioration due to motion in the earth is not probable given the minimal amount of stress placed on your foundation when a recent earthquake has a magnitude of only 3.6, which was the largest earthquake in the Dallas, Fort Worth area measured in 2015. That's what was discovered. If you need to fix your slab foundation or pier and beam house, it's not because of the tremors. Of course, repairs may be needed on your foundation due to other forces. Seismologists from SMU University are currently monitoring the soil in the area in order to determine what caused the earth to quake, and ascertain how likely it is that they will adversely affect local soil, houses, and even the foundation of your concrete slab or pier and beam structure. If fixing your foundation is an issue, call HD Foundations. But remember: At the present time, quakes in the earth does not appear to pose a serious threat to house foundations.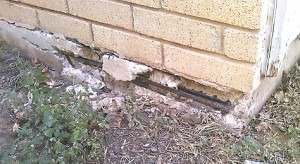 While quakes in the surface of the earth are an issue, it is quite likely that if you do have problems and need foundation repair in Texas, your issues are not occurring due to the earthquakes in 2015. They can be caused by damaging hot weather that is affecting the foundation of your house. That's because Irving clay soils (particularly in Valley Ranch and Las Colinas), are commonly 25 feet to 30 feet deep, unlike the dirt in other local Dallas, Fort Worth area cities, which generally ranges from five to 12 feet deep. Repairing foundations on houses and apartments that have deteriorated is common, although foundation destruction due to earthquakes occurring this area is not. Expansive clay soil is prone to movement and can easily result in slab foundation cracks or create problems with pier and beam homes. If you need to repair your foundation as a result of problems such as damage to your house or apartment (whether there was an earthquake or not), call HD Foundations. Extremely hot and dry weather in the Metroplex affects the ground and causes it to shift, too. If destruction becomes significant, foundation repair service on your slab may be needed to solve problems. It doesn't take something as severe as earthquake foundation damage to require foundation repair service.
If you notice any large gaps or other forms of deterioration, a foundation contractor should be contacted and asked to perform a thorough inspection. Remember, when earth expands and contracts for reasons not associated with tremors, the movement in your infrastructure can affect it. If that's the case, you'll want to repair any foundation damage you find now because it will save you money and trouble later. If you wait until 2016 or 2017 to fix your foundation, your issues will be greater due to extensive destruction and more expensive to correct. Whether you're dealing with slabs, pier and beam foundations, concrete piers or steel ones, it's a good idea to be proactive and have repairs made to your foundation right away.
In the event that the possibility of foundation damage caused by recent earthquakes has created concerns, or if you believe your foundation was harmed or has problems, schedule a free foundation repair estimate online today. Or, just give the contractors at HD Foundations a call. We'll gladly stop by to evaluate your structure.