There are many reasonswhy concrete slab foundations crack. Quite a few property owners in the Dallas, Fort Worth, TX area have discovered that poor construction, soil conditions, excessive moisture, plumbing leaks and improper grading are common causes of foundation cracks in concrete slabs.
All of these things can create extensive foundation damage that should be fixed as soon as possible. If you notice any deterioration in your foundation, it's best to contact a contractor about having concrete slab foundation repair on cracks when they're still small. By addressing the issue now, you can save on costs later. Best of all, restoring your foundation will help in resolving any problems that you are having as a result of harmful fractures in your slab.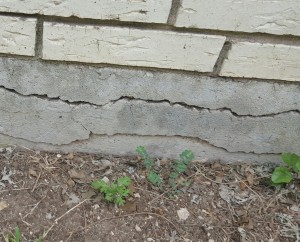 Many homeowners don't realize that temperature is a factor when pouring concrete. It's an important consideration because climate can affect the strength of the concrete in your slab foundation. Concrete cracks occur when the temperature changes. It is generally agreed that climate should be above 40-45 degrees, and below 90 degrees, when a concrete slab is poured.
Failure to construct a foundation during ideal weather conditions is one explanation for why concrete slab foundation cracks may develop in concrete slabs foundations over time. Another reason that gaps may form is because a slab is not thick enough. If a foundation is not at least 3-1/2" thick in the center and approximately 22"-24" thick around the perimeter, the structural integrity of the foundation can be compromised and splintering may occur.
Other things that can cause cracks in concrete slab foundations are a lack of proper reinforcement and poor quality concrete mix. The type of reinforcement used when preparing the foundation (rebar or post tension cables), as well as the spacing of the rebar or cables, can affect the strength of the foundation. The composition of the concrete mix used when preparing the slab is also a concern. Oftentimes foundations fail and break because they were improperly prepared or positioned on poorly compacted soil. Many Dallas, Fort Worth houses have been damaged by this.
Other Reasons Why Concrete Slab Foundations Crack And Cause Foundation Damage: 
Fissures can harm a foundation by weakening the concrete that the foundation is made of. Gaps in concrete allow moisture to enter the slab. Over a period of time, increasingly large amount of water will be absorbed by the concrete and create a great deal of destruction. Large amounts of rainfall in the Dallas, Fort Worth area, as well as slab leaks that are the result of plumbing problems, can ultimately damage slab foundations.
If you think you may have broken pipes and water leaks, be sure to contact a plumber right away. They can perform tests that will determine where any leaks are originating. When concrete slab foundations crack, they can be costly to fix. It's best to stop fractures in your foundation right away.
And don't forget: If your foundation breaks apart, it will cease to be level. This can lead to fractures in your exterior brick, walls, ceilings and more. To avoid foundation damage and the many things that can cause it, take action as soon as you see problems.
How Foundation Repair Helps:
Having your slab foundation fixed will stop cracks from getting larger and make your foundation upright and level again. It helps by restoring your concrete slab to its original position and eliminating any gaps. This, in turns, protects your house or commercial property. If you believe you may have foundation trouble and want to learn more about how concrete slab foundation repair can assist in ending issues such as cracking, contact HD Foundations for a free evaluation. We service the entire Dallas, Fort Worth metroplex.
Updated 6/08/2022