It's good to know the four common causes of foundation cracks and the reason foundation crack repair can help.
Over the years, fissures have ordinarily been created by a number of different things in North Texas. While there are many different types of foundation issues, fractures are some of the most damaging. It pays to find out more about it.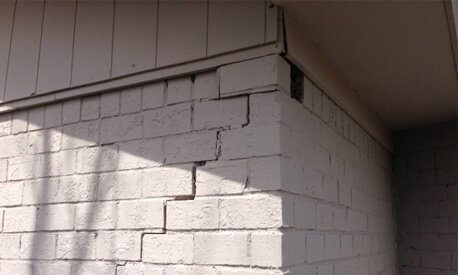 Understand The Common Causes Of Foundation Cracks In Dallas, Fort Worth, TX. Foundation Crack Repair Is Helpful For These Four Things:
1. Soil Movement  –  Any kind of motion in the earth can create fissures. Given long periods of time, all foundation crack. How much it shifts is dependent on many things including what type of soil your structure is built on. Depending upon where your structure is located, it may be constructed on clay soil, sandy soil, loamy soil. HD Foundations can help stop damage. Cracks commonly occur in clay soils. They will expand when they're wet and then when it's hot, they'll contract and develop crevices. It's very common. Effect: This back and forth motion can lead to cracking and other foundation issues. Sandy soils are what are called "loose" soils. That's because their particles are not densely packed together. As a result, they drain quite easily and don't hold water. Loamy waters are "medium" weight soils that fall in between the other two types of soils. As a general rule, expansive soils are the type that causes the most problems for property owners. If you don't know what type of soil your foundation is resting on, a soil engineer can test the soil to determine how expansive it is. It's important to remember that even a very small amount of movement can greatly affect your foundation.
2. Leaks – Under slab leaks can create all kinds of foundation cracks. Indications of plumbing leaks include: (1) wet patches in your carpet (2) tiny bubbles coming up from your floor crevices (3) a water bill that is much higher than usual and (4) foundation cracks. Plumbing leaks cause problems because they allow the soil under your foundation to get wet. Effect:  This leads to soil expansion, particularly if your house or structure is positioned on expansive soils. It's a common cause of foundation cracks. Of course, no matter what type of soil your house is constructed on, moisture under the foundation will cause damage. If you think you may have an under slab plumbing leak, you should contact a licensed plumber right away and ask them to perform a hydrostatic test on your plumbing in order to determine where the problem lies. The sooner you have the leak fixed, the sooner your problems will stop multiplying. Once the leaks or leaks have been repaired, you may need to have a contractor stop by to evaluate your property for fractures and other forms of damage.
3. Improper Compaction Of Soils- Unfortunately, some home builders do not spend the necessary amount of time and money needed to ensure that the homes they build are constructed on soil that has been properly prepared. Ordinary causes of fractures in your foundation should be addressed by HD Foundations because we can help stop damage. It is essential that soil be properly compacted (or smashed down) before a house is built on it. Effect:  If a structure is built on a landfill or soil that has not been packed down with great force, it will eventually start to "settle" or slowly sink into the ground. Once the structure has been placed on the site, the only way to deal with this problem is to have foundation piers installed where necessary to prevent the house from sinking further. A foundation repair contractor can tell you what type of piers would best solve your problem, how many should be installed, and where they should be placed.
4.  Trees – Stubborn tree roots commonly cause a great deal of cracking in house foundations. Fortunately, we can be of assistance. If you're having issues, please give us a call. That's because roots are very strong and exert tremendous force on your foundation. Effect:  When tree roots wind their way under your foundation, they can create "upheaval", which means that your foundation is pushed upwards and will eventually bend and crack. For this reason it is important to make sure that any trees are planted at a considerable distance from your structure. To find out how far away they should be placed, just consult an expert at your local plant nursery. To find out more, contact HD Foundations about your cracks. And remember this: Having crack repairs due to trees really helps.
It's best to terminate any form of fractures right away because it preserves your property and save you money down the line. To know more and stop the four common causes of foundation cracks that have an impact on Dallas, Fort Worth property owners, be sure to have foundation crack repair service. Contact HD Foundations right away. If you think that you need to have your property inspected, don't delay in letting us know.  We'll be happy to stop by and evaluate your foundation and tell you what we find. We know a lot about dealing with crevices and can fix any damage you may have. So why wait? Request free foundation repair estimates online today. Or, if you prefer, please just phone us.
Updated 12/17/2020