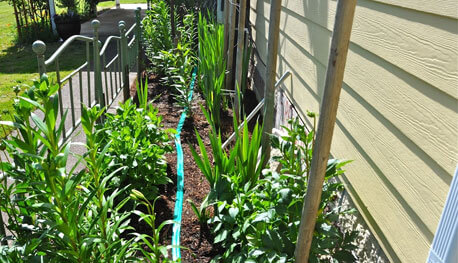 Owning a home is a joyful and rewarding experience. However, it also comes with many responsibilities. One of these is to keep your house's foundation in good condition through regular maintenance. 
The foundation does more than keep your home above the ground. It provides support and stability to the structure of your house, keeps out moisture and provides insulation. 
Maintaining your foundation helps ensure its integrity and longevity, which helps prevent common problems caused by problems like cracks, crumbling, gaps and sinking. 
One often-overlooked but highly effective way to keep your foundation in good condition is to water it. This blog discusses why this practice is so important, what it involves and how to use a soaker hose for foundation watering as a simple and efficient solution.
What Causes Foundation Problems? 
Before diving into the whys and hows of watering a foundation, it helps first to understand the common causes of foundation problems. 
Foundation problems are not uncommon, and they often stem from one or more of the following issues:
Soil Shrinkage and Expansion:

The soil beneath your home contracts during dry spells and expands when wet. This movement can exert pressure on your foundation, leading to cracks and other structural concerns.

Poor Drainage: Inadequate drainage around your home can result in excess water accumulating near the foundation. Over time, this can weaken the foundation's structure and cause damage.
Extreme Weather:

Prolonged dry spells and heavy rains can stress your foundation. Drought can lead to soil shrinkage, while heavy rainfall can cause soil erosion and flooding. Both these scenarios can compromise your foundation's stability.

Tree Roots: Trees can be attractive additions to a landscape. However, planting them too close to your home can cause foundation problems. Tree roots can reach your foundation, causing it to crack and shift.
Poor Construction Practices: Sometimes, foundation issues can be traced back to subpar construction practices. This is why it's important to either have a thorough inspection done when buying a home or hire a trustworthy contractor to build a foundation for a new construction. 
Maintaining Your Home's Foundation Through Watering 
A simple yet effective way to help prevent cracks in your home's foundation is to water it. While it might sound like a gimmick to those unfamiliar with the practice, foundation watering is commonly used in warm, dry states like Texas to prevent foundation damage caused by changes in soil moisture content. 
However, manually watering your home's foundation with a hose or watering can is inefficient, time-consuming and tiring. Meanwhile, using a sprinkler system could just end up wasting water. A better option is to use a soaker hose. 
What Is a Soaker Hose? 
A soaker hose is a simple yet ingenious tool for efficient and targeted watering. Unlike traditional garden hoses that spray water into the air, a soaker hose delivers moisture directly to the soil around your foundation.
A soaker hose has thousands of tiny holes. When connected to a water source, it allows water to seep out slowly and evenly. This controlled watering prevents wastage, as there's no runoff or evaporation. It's a precise way to combat fluctuations in the moisture content of the soil your foundation sits on. 
Soaker hoses come in various types and sizes:
Rubber vs. Porous Soaker Hoses:

Rubber soaker hoses are more durable and provide consistent water distribution. Porous soaker hoses are made from recycled rubber and are typically more budget-friendly.

Length:

Soaker hoses come in various lengths, usually from 25 to 100 feet. How long your hose should be depends on the size of the area you need to water. Longer hoses are suitable for more extensive foundation areas.

Diameter:

Common soaker hose diameters are 1/2 inch and 5/8 inch. A larger diameter hose can deliver more water but may require higher water pressure. The choice depends on your water supply and the area you're watering.

Emitter Spacing:

Some soaker hoses have uniform emitter spacing, while others allow you to adjust the spacing according to your needs. Adjustable spacing can be beneficial for customizing your watering plan.
Choosing a Watering Cycle for Your Foundation
When and how often you should water your foundation depends on your area's climate and the season. 
During the summer, it's best to turn your foundation soaker hose on in the early morning or early evening. This helps prevent water loss due to evaporation.
In hot weather, you likely need to keep your soaker hose for foundation watering turned on for 15 to 20 minutes twice a day, up to five days a week. 
During spring and early fall, you can reduce the number of times you water your foundation. This is because seasonal rains will help keep the soil around your foundation moist.  
During the colder months, you should water your foundation when the sun is out to help prevent the water from freezing. In winter, you won't need to water as much or as often. 
A foundation maintenance and repair expert can help you determine the appropriate watering schedule for your home. However, you can tell when your foundation needs watering by keeping an eye out for these signs:
Cracks in the soil around your foundation

The soil around your foundation feels dry or crumbles easily 

Soil has pulled away from your home's foundation
Benefits of Using a Soaker Hose for Foundation Watering 
Soaker hoses offer an array of advantages when it comes to safeguarding your home's foundation. These include the following: 
Targeted Hydration:

Unlike traditional sprinklers that spray water everywhere, soaker hoses deliver moisture precisely where it's needed. They effectively water the soil surrounding your foundation, minimizing waste.

Prevents Soil Erosion:

Soaker hoses are gentle on the soil, preventing erosion. By evenly distributing water, they minimize the risk of soil being washed away during heavy rainfall, which can undermine your foundation's stability.

Water Efficiency:

Soaker hoses slowly and consistently drip water directly into the soil, helping ensure minimal water loss due to evaporation or runoff. This not only conserves water but also keeps your water bills in check.

Foundation Protection:

Consistent soil moisture is your foundation's best friend. Soaker hoses help maintain the optimal moisture level, preventing the soil from drying out, contracting or excessively expanding, which can lead to foundation issues like cracks and shifting.

Low Maintenance:

Soaker hoses require minimal maintenance. You can easily store them during the off-season, and they can serve you for years with proper care. Unlike traditional sprinklers that may require regular adjustments, soaker hoses are hassle-free.
Why It's Important to Maintain Your Home's Foundation 
Structural Integrity:

A strong foundation ensures the structural integrity of your home. It keeps everything above it in place, ensuring that walls, floors and ceilings remain stable and secure.

Safety: Beyond structural concerns, foundation problems can pose safety risks. Cracks or shifts in the foundation can lead to uneven floors, which might result in slips and falls.
Longevity:

Foundation maintenance isn't just about avoiding problems; it's also about extending the lifespan of your home. A well-maintained foundation can help your house stand strong for generations.

Property Value: A well-maintained foundation is an essential factor in determining your property's value. Neglected foundations can lead to costly repairs and potentially reduce your home's resale value.
Cost Savings:

Preventative measures, like watering your foundation, are far more affordable than extensive foundation repairs. Regular maintenance can save you money in the long run.
Too Much Moisture Can Also Cause Problems 
Using a soaker hose for foundation maintenance is a simple, cost-effective way to prevent foundation issues that threaten the structural integrity of your home. However, it is crucial first to have a foundation inspection done to determine if your foundation actually needs watering. 
Excessive moisture can also damage foundations. If the soil under and around your foundation contains too much moisture, watering with a soaker hose can end up making foundation problems worse. 
A foundation expert can diagnose the root cause of your foundation problems and recommend the right maintenance approach, whether it's to install a soaker hose for foundation watering or a French drain to prevent water from infiltrating your concrete slab or pier and beam foundation. 
Get a Free Foundation Inspection From HD Foundations
HD Foundations is a Texas company specializing in resolving all kinds of foundation problems. We have serviced more than 2,900 properties in the DFW-Metroplex and have built a reputation for quality, long-lasting results and exceptional customer service.
Our services include foundation repair and drainage system installations. We provide a free foundation inspection and estimate at no cost. 
If you're concerned that your foundation requires watering or if it has worrying signs of damage, don't hesitate. Reach out to us today to schedule your free inspection and estimate. You can rely on our team for fast, friendly service and an honest assessment of your foundation.