Updated 3/16/2022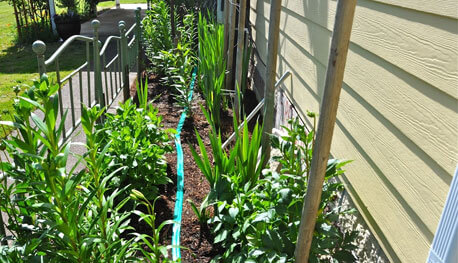 Soaker hoses should be used to water foundations in the Dallas, Fort Worth area during the hot summer months in order to stop foundation cracks. This little tips is particularly important in the North Texas area, where temperatures frequently exceed 100 degrees. It's good advice. Soaker hoses should be used around foundations because it needs the moisture provided by water, and hoses are a cost-effective means of preventing your foundation from deteriorating. By following a simple maintenance program, you can stop all kinds of foundation problems by using soaker hoses to water your yard.
One of the primary reasons for foundation issues in the DFW area is a lack of moisture around structures. It's extremely important to maintain a consistent moisture level around your house all year long. If you have questions, call HD Foundations. And remember: When using a soaker hose, there are a few simple rules you'll want to follow.
How To Use A Soaker Hose To Water Your Foundation: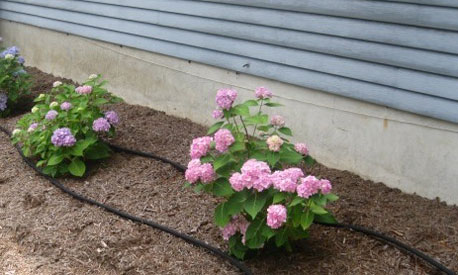 When utilizing a soaker hose, make sure that you do not place it directly next to your foundation because that would cause the soil under your structure to become too wet. Large amounts of water beneath your foundation can cause the ground to swell, and too much water is just as harmful as too much. For this reason, the soaker hose should be positioned 20-24" away from your structure. The idea is to keep the ground moist, but not soaking wet or muddy. If the ground is getting muddy, turn the soaker hose down. For maximum benefit, it's important that the soil slowly absorb the moisture. If you notice that the ground around your structure is pulling away, use the hose on soak the area around your foundation on a more frequent basis or run it for a longer period of time. And, if the soil is getting too wet, perhaps you need to cut back on your watering program.
Another thing to keep in mind is that you should not connect a bunch of soaker hoses together. If you do, the water pressure will decrease and your foundation will not be watered evenly. As a general rule of thumb, 50' of soaker hose is all that should be run off a single water source. Of course, if you have no other water source, simply hook a few soaker hoses together.
How often should a soaker hose be used to water my foundation?
It should be used on an as-needed basis to protect your your property. Considering how hot it gets in the Dallas, Fort Worth area, you will probably need to run the soaker hose 15-20 minutes a day, three to five days a week. Of course, only you can determine when the soil around your foundation is dry and in need of moisture. There are all kinds of things you can do to avoid foundation issues and stop cracks from forming in slab and pier and beam foundations. If you'd like more information, please read our tips for protecting your foundation.
And, if your foundation showing signs of trouble, take this opportunity to schedule a no-cost foundation evaluation online today.
Updated 8/12/2020