Among the many good foundation repair methods used in the Dallas and Fort Worth, TX are concrete piers, steel pilings and effective foundation drainage systems. They are all systems of labor that are excellent. As experts who deal with foundation issues, the pros at HD Foundations offer customers several excellent methods of foundation repair, and we'll tell be happy to tell you all about them. When you need assistance, contact HD.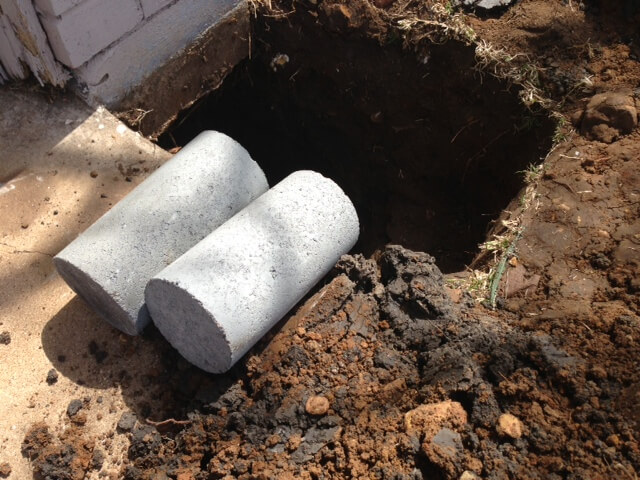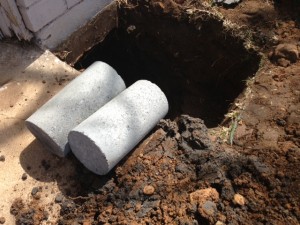 Good Foundation Repair Methods Include:
Concrete piers
Drilled Concrete Piers
Helical Pilings
Belled Concrete piers
Soil Injection
Drilled Concrete Piers
Soil Injection
Mudjacking
Many things come in to play when using various techniques for fixing foundations. Because of voids between the soil and a foundation, this is addressed when you require repair service. Which system to use is something that can be discussed when a contractor like HD Foundations evaluates your structure. Concrete pier foundation repair is often performed in Dallas and Fort Worth and is a good method to use in North Texas, particularly under those houses that are situated in clay soil. After digging approximately 2-foot holes, they are installed into the earth to a depth of approximately 12 feet in order to fix the foundation, although they can go as deep as 15 feet when doing foundation work. Between 8,000-10,000 pounds of pressure is used to drill the piers into the earth. This method of repair offers excellent foundation solutions and eliminates foundation movement. These pressed piers are often used in this region, including Plano, Arlington and other local cities. You'll want to inspect them and your soil. It's hard to go wrong with these supports as they are specifically designed to stabilize house foundations.
Poured Concrete Pilings are created by pouring liquid concrete into holes that have been created in the soil around your foundation. They are what property owners are generally referring to when they mention piers made out of concrete. These foundation supports are discussed above. They're fine for certain applications and houses, depending on your soil and any special circumstances. Property owners in Fort Worth and Dallas commonly discover that steel pier foundation repair is also a method that's good to use. People choose these pilings because they can be drilled very deeply into the soil. In fact, these steel pilings can be installed as far as 68-70 feet. The idea behind using these foundation piers is to drill them down until they reach bedrock. In some areas of the country, bedrock may be well over 500 feet down, so they would not be utilized for foundation work in those areas. You may wish to read information regarding steel piers vs. concrete piers: Which is best? You'll want to examine them both to see which one is distinctly right for your building.
Drilled Concrete Piers are somewhat like the poured variety in that steel rebar is installed in the voids and then concrete is poured in. It ordinarily takes concrete about a week to 10 days to be completely cured. That's not unusual. They can be unsatisfactory in some instances.
Helical Pilings are made of steel and are normally utilized by property owners who don't have exceedingly heavy concrete slab foundations or pier and beam foundations on their special houses. The helical pier is positioned on a galvanized shaft and operates in a spiral position. It may be drilled down in the dirt to a depth of 14-18 feet, and even deeper in some regions. Proper torque rotation ensures that the pier is securely positioned in the soil during the house leveling process, and is specifically suited to your building's foundation. They're fine for certain jobs, but it pays to scrutinize them.
Belled Concrete Piers are installed by pouring structural grade concrete that is 3,000 PSI or more into steel rebar cages around your foundation. They are often drilled into position in the dirt using augers. As is the case with all foundations, these supports have limitations and are not correct for particular homes, so you'll want to study them carefully before installing them in the earth around your structure. They are a relatively common method of restoring foundations, but they're wrong in certain instances.
Soil injection is a process in which ammonium salts and potassium ions, which are both chemicals, are injected 7-10 feet into the soil beneath your foundation through holes that are approximately ¾" in diameter. Because of their chemical properties, they prevent water from being absorbed by the soil under your foundation, thus eliminating swelling. It is best to do this type of foundation work when your foundation upheaval does not exceed 1.5-2 inches, and the damage has not extended inwards of your concrete foundation for more than 8-10 feet. Unlike using foundation piers, this technique relies on ordinary chemicals and molecular reactions. It's worth analyzing the soil around your particular house foundation to see if they're right for your project. It's not a bad approach for some people in this area when considering methods of repair in the area.
Foundation Drainage Systems work and do good job in the DFW area because they halt damaging water problems. With these systems, water is forced away from your foundation when repairs are being made. Concrete is greatly affected by moisture, and a surface or sub-surface drainage system may be needed to protect your foundation from staying wet. When you inspect your foundation, you can see that drains function correctly. This technique generally works fine in the soils in this region, and it's not unusual to need foundation drainage service.
Mudjacking, which is sometimes called "slabjacking," involves pumping concrete into the soil beneath your foundation (called "pressure injecting" it) in order to elevate it, rather than installing foundation piers manufactured from steel or concrete. This is generally not a good solution for most area homeowners. A variety of mixtures are commonly utilized when servicing these types of foundations.
If you want to know more about concrete piers and other good methods used to fix foundations in the Dallas, Fort Worth area, get free foundation repair estimates online today.
Update 3/30/2021