GETTING A FOUNDATION REPAIR WARRANTY WITH THE BEST BENEFITS
To get a foundation repair warranty with the very best benefits in Dallas, Fort Worth and Arlington, TX areas, contact HD Foundations. We're  foundation repair contractors. The pros at HD Foundations offers a lifetime guarantee on service. You'll want to ask important questions and obtain facts. Securing a leading contractor is important because they'll give you a warranty on your foundation repairs and provide the most outstanding benefits for you. Contact HD Foundations. We have an excellent Better Business Bureau rating.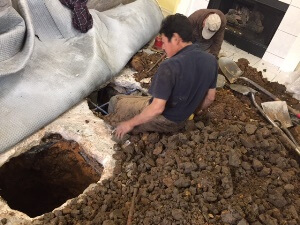 How To Obtain The Best Foundation Repair Warranty:
To get the most beneficial one in Fort Worth, Dallas, Arlington areas, do the following three things: (1) Visit a foundation contractor's website because you can generally find out if they offer a lifetime warranty on foundation repair service. It's imperative that you acquire a lifelong commitment because things happen over time and foundations eventually do need to be fixed. It's highly advantageous to get a warranty that covers any contractor repairs because your foundation may eventually shift or become damaged. Make sure you have a warranty on foundation piers. Homeowners who don't have one are at a disadvantage. Inquire about written documents because they definitely offer superior benefits. You'll quickly learn that the best assurances come from established contractors that have a reputation for guaranteeing repairs they make on foundations, and last for the life span of the foundation. (2) Contact your Texas friends and neighbors and inquire about their warranty. They'll tell you the truth. It's important to obtain foundation repair facts. Keep in mind that concrete and steel foundation piers can shift due to soil conditions and other factors, and as a result your piers can move over the years. If you don't have a lifetime foundation repair warranty, it may prove to be expensive to you in the future. That would be one of the worst situations to be in. Take advantage of the opportunity to get one while you can. (3) Contact HD Foundations because we're an established foundation repair contractor. We'll gladly provide you with information about our guarantee.
What Are The Benefits Of Having A Warranty Issued By Contractors At HD Foundations?
One of the best advantages of having an HD foundation repair warranty is that it saves you time and money in the end. That's because prices for fixing foundations increase over time and if you don't get a good warranty now, you could pay a great deal more to fix your foundation later. Remember: Contractor prices only increase and the cost of foundation piers, including pressed concrete and steel piers, will continue to escalate. If you don't get a promise in writing, you'll be at a tremendous disadvantage in the future.
If you want to find out more about how you can profit from having a superior warranty, contact the contractors that offer one that lasts a lifetime — HD Foundations. Get a free foundation repair estimate online today.
Updated 5/11/2021