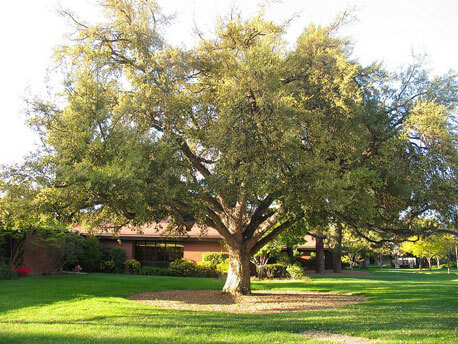 Updated 3/20/2022
Find out how to pick the best tree that will not damage your foundation. Before deciding on a particular tree that you think will be excellent, make sure you find out all about its root system, especially about the anticipated depth and spread of its roots.
Here's how to pick best tree that will not damage your foundation:
Choose a tree that does not have an invasive root system. If you do, it will grow under your foundation and harm it. The best types of trees to pick include oaks, walnut trees, hickory and conifers. To find out exactly which specific tree would be most beneficial to you, talk to an landscape company. Trees that grow long, lateral roots should not be installed near house foundations. Learn more about the causes of foundation damage.
What types of trees are the worst choice to plant near foundations?
Trees that have long, lateral roots are bad choices because they harm foundations. Maple trees, ash trees and cottonwoods are trees you should not pick because they are known for growing invasive, lateral trees roots. Deciduous trees tend to have a deep root system that crawl beneath foundations and cause deterioration. They are best avoided. Trees of this type can hurt your foundation by growing under your structure and forcing it upward. This can cause your foundation to heave. What's more, because trees need water to sustain them, they will rob your soil of much needed moisture and this can be damaging to your foundation, as well. Read some tips on protecting your foundation through landscaping.
It's important to note that soil conditions also affect the growth of trees roots, too. Highly compacted soils have less oxygen in them and, as a result, roots do not tend to become exceedingly large. Trees planted in hard compacted soils generally grow near the surface of the soil and pose less threat of harm to your property.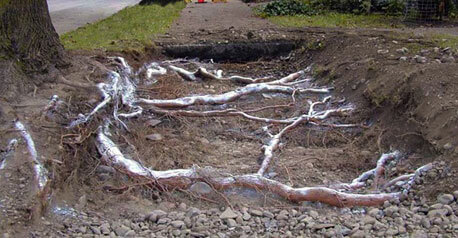 How Far From The Foundation Should Trees Be Planted To Ensure They Don't Do Harm?
Trees should be installed  15′ – 25′ away from your foundation, depending upon the size of the tree's root system. If you choose a tree that has a very large root system, it may need to be planted 50' away from the foundation, if possible. Remember: the spread of tree roots can be two to four times greater than the drip line of the branches. This means that a massive root system can easily form under your foundation.
When you make a bad choice in trees, foundation damage is sure to occur. It's imperative to keep tree roots away from underground utilities. To be on the safe side, make sure trees are installed a minimum of 5'-10' away from utilities. Where driveways or sidewalks are concerned, it's best to plant them at a distance of 6-7' away if you're installing a medium-sized tree, and up to 20' away if the tree is known for having large, encroaching roots. It may be beneficial to install a root barrier to protect your house or driveway from damage.
If you have issues, learn how to pick the best tree that will not damage your foundation. If foundation repairs are needed, contact HD Foundations. We service the entire DFW Metroplex.