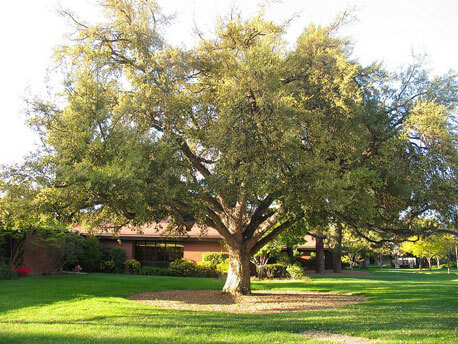 Updated 8/30/2023
A lush canopy of trees can be the crowning glory of your home. However, the roots that anchor them to the ground can sometimes threaten the structural foundation. If you are interested in adding greenery to your property to boost curb appeal, it is best to select trees that don't damage foundations. In this guide, we'll cover the different tree species to choose from while boosting your home's aesthetics.
Find out how to pick the best tree that will not damage your foundation. Before deciding on a particular tree that you think will be excellent, make sure you find out all about its root system, especially about the anticipated depth and spread of its roots.
How Tree Roots Damage Your Property's Foundation
Tree roots damage a foundation through intrusion, a process known as root heave. Roots can grow from a few inches to over three feet long, often extending beyond the diameter of a tree's canopy. As roots look for moisture, they can find their way to a home or building's foundation, causing erosion and other damage.
Here are some of the most common ways that tree roots damage a foundation:
Moisture Absorption:

Tree roots naturally seek out sources of moisture, including areas around a foundation. As they absorb water, roots can make detrimental changes to the foundational soil your home is built on.
Soil Movement:

As tree roots grow, they can cause the soil to move. Some areas will shrink, and some parts of the foundational soil will dry out, leading to soil movement and settlement, which causes unwanted shifting.
Soil Erosion:

As soil conditions change, channels can be created in the surrounding perimeter of your home, leading to water being channeled away from the foundation. This effect causes uneven soil moisture levels, leading to foundation movement and uneven settlement.
Foundation Cracks:

As the soil around the foundation shifts and settles unevenly due to root-induced moisture changes, it can result in cracks in the foundation walls and floor. These cracks can compromise the structural integrity of the building.
Foundation Lifting: Aside from settlement, tree roots can also cause foundation lifting, where they grow beneath the foundation and push the soil upward. This effect can lead to structural issues and an uneven foundation.
Damage to Pipes and Utilities:

Aside from your home's foundation, tree roots can also damage pipes and utility lines. They can impact your home's water supply and sewer pipes, leading to blockages, leaks and other problems.
If you want to avoid the structural issues mentioned above, you should select the best trees to plant near a house foundation. 
Here's How to Pick Best Tree That Will Not Damage Your Foundation
Choose a tree that does not have an invasive root system. If you do, it will grow under your foundation and harm it. The best types of trees to pick include oaks, walnut trees, hickories and conifers. To find out exactly which specific tree would be most beneficial to you, talk to a landscape company. Trees that grow long, lateral roots should not be installed near house foundations. Learn more about the causes of foundation damage.
Trees That Don't Damage Foundations
Not every tree is a good fit for your home since some can do more harm than good in the long run. If you want to avoid structural issues on your infrastructure, it is best to plant trees that don't damage foundations. The good news is that plenty of trees can boost your property's value without causing issues underground. Here are the best trees to plant near a house foundation.
American Holly:

These are excellent trees to plant near a house. This tree species provides plenty of shade in summer and produces red berries that accentuate your home's lush surroundings. They grow to 50 feet high and become an excellent addition to your home's landscape.

Olive Trees:

These trees feature dark green leaves with small white buds, making them an excellent addition to a home's yard. They grow up to 40 feet tall and bear fruit in summer.

Amur Maple:

These trees aren't invasive; their green and yellow flowers can brighten up your yard in spring. They grow up to 30 feet high, providing plenty of shade in summer.

Australian Willows:

These are drought-tolerant trees that thrive in dry climates. These attractive evergreens can grow up to 35 feet and expand their canopy to 20 feet wide. They create an upright oval silhouette, boosting any landscape's aesthetics. The branches are wind resistant perfect for homes located in windy areas.

Malus' Adams' Tree:

This hardy ornamental tree grows up to 25 feet high. It's well known for its deep red leaves in the fall, adding nice colors to your landscape.

American Hornbeam Trees:

Also known as beech trees, these foundation trees are perfect for homes with smaller yards since they tend to grow upward. These trees can grow 40 to 60 feet and feature dark green leaves for most of the year that turn yellow in autumn.

Miniature Plum Tree:

This species is perfect for homeowners looking for easy-to-maintain foliage that doesn't grow really tall.

Trident Maple:

These foundation trees are another excellent option for smaller yards. They tend to grow faster than other trees and reach up to 35 feet.

Skyrocket Juniper:

These trees are wind and erosion-resistant, perfect for homes located in flood-prone areas. They grow up to 30 feet and provide excellent shade and privacy to homes.

Pine Trees:

These trees often serve as highlights to any landscape. Their cones and long needles can add a festive mood to your property.

Pawpaw Trees: These trees can be planted in full sun or partial shade. They produce nice tropical-tasting fruit and grow up to 30 feet tall.
What Types of Trees Are the Worst Choice to Plant Near Foundations?
Trees that have long, lateral roots are bad choices because they harm foundations. Maple trees, ash trees and cottonwoods are trees you should not pick because they are known for growing invasive, lateral tree roots. Deciduous trees tend to have a deep root system that crawls beneath foundations and causes deterioration. They are best avoided. Trees of this type can hurt your foundation by growing under your structure and forcing it upward. This can cause your foundation to heave. What's more, because trees need water to sustain them, they will rob your soil of much-needed moisture and this can be damaging to your foundation, as well. Read some tips on protecting your foundation through landscaping.
It's important to note that soil conditions also affect the growth of tree roots, too. Highly compacted soils have less oxygen in them and, as a result, roots do not tend to become exceedingly large. Trees planted in hard compacted soils generally grow near the surface of the soil and pose less threat of harm to your property.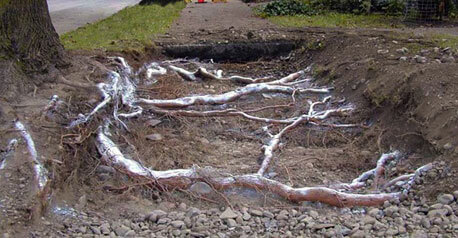 Trees That Shouldn't Be Planted Near Your Foundation
Some trees should never be planted near your home. They can grow too tall and spread branches into your property. In addition, they have invasive root systems that can wreak havoc on your home's foundation. Here are the trees you should avoid planting near your home:
Oak trees

Silver maple

Norway maple

White ash

Aspen

American elm

Cottonwood

Weeping willow

Poplar
If you have any of these trees near your property, it is best to get professional help to remove them to a different location.
How Far From the Foundation Should Trees Be Planted to Ensure They Don't Do Harm?
Trees should be installed  15′ – 25′ away from your foundation, depending upon the size of the tree's root system. If you choose a tree that has a very large root system, it may need to be planted 50' away from the foundation, if possible. Remember: the spread of tree roots can be two to four times greater than the drip line of the branches. This means that a massive root system can easily form under your foundation.
When you make a bad choice in trees, foundation damage is sure to occur. It's imperative to keep tree roots away from underground utilities. To be on the safe side, make sure trees are installed a minimum of 5'-10' away from utilities. Where driveways or sidewalks are concerned, it's best to plant them at a distance of 6-7' away if you're installing a medium-sized tree and up to 20' away if the tree is known for having large, encroaching roots. It may be beneficial to install a root barrier to protect your house or driveway from damage.
Tips to Prevent Tree Root Foundation Damage
Preventing foundation damage requires a combination of careful tree selection, regular maintenance, careful landscaping and strategic yard design. Here are some tips that can go a long way:
Choosing the Right Kind of Trees:

The first step to reducing the risk of root foundation damage is carefully selecting the trees to plant near a house. You can choose species from the list we provided earlier.

Install Root Barriers:

These tools are made of plastic or fabric sheets installed around the base of trees, preventing tree roots from spreading outwards.

Distance Trees Away from Your Home:

Plant trees at least 10 feet away from your home. Determine how far the foliage extends and set the appropriate distance accordingly.

Strategic Tree Placement:

Plan ahead and find out the average mature dimensions of a tree when it is at its full height. Place trees with more aggressive root systems further away from your home as much as possible.

Regular Tree Maintenance:

Schedule regular maintenance for all trees in your yard. Remove damaged or dead branches as soon as possible. Proper maintenance promotes your tree's health and prevents excessive root growth.

Proper Watering:

The best practice is to water trees deeply. Avoid frequent and shallow watering, which causes roots to grow near the surface, closer to your home's foundation.

Mulching:

Adding a layer of organic mulch around your tree's base provides some added benefits. Mulch helps regulate soil temperature, retaining moisture. This effect prevents the plants growing near your tree from competing for the water in the ground. It also encourages tree roots to grow more evenly.

Regular Foundation Inspection: Schedule periodic foundation inspections with reliable professionals. They can inspect the structural integrity of your infrastructure and discover potential root intrusions.
What If Your Foundation Is Damaged?
If tree root infiltration or other foundation problems have been discovered, it is best to take action immediately. This issue often leads to other structural concerns, such as roof leaks and water infiltration. 
If you have issues, learn how to pick the best tree that will not damage your foundation. If foundation repairs are needed, contact HD Foundations. We provide long-term solutions preventing root intrusion and other issues. Our team has proudly served the entire DFW Metroplex. Call today or fill out this form to get a free estimate.