House Foundation Repair Fort Worth, Dallas, Arlington TX
HD's House Foundation Repair Process Solves Problems.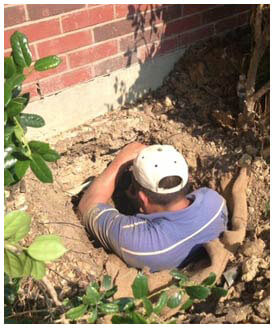 For Dallas house foundation repair, Fort Worth, Arlington or other DFW metroplex service, contact HD Foundations. Foundation issues are common throughout the North Texas area. That's due to local climate conditions and other factors. House foundation repair in Fort Worth, Dallas, Arlington and other cities protects your valuable property from all sorts of foundation damage.
Why Have House Foundation Repair In Fort Worth, Dallas, Arlington:
Repairs make your house foundation level. This is true of concrete slabs as well pier and beam structures.
This service protects your property value.
Foundation repairs minimize safety risks. Uneven foundations are dangerous and become increasingly worse over time. It's best to stop deterioration right away.
Repairs on house foundations in the Dallas, Fort Worth, Arlington metroplex must be made before any remodeling takes place.
It's difficult to sell a home that needs any type of foundation repair.
About Our House Foundation Repair Process:

1– In order to fix a house foundation (including a slab or pier and beam foundation), the first thing we do is prepare the site. This entails laying plywood and tarps in the work area. The crew at HD Foundations will carefully remove your plants with the intention of replanting them once your foundation has been repaired. Next, we dig large holes around your structure as part of the 5-steps in our house foundation repair process. Whether your house is located in Dallas, Fort Worth or Arlington, the steps involved with fixing foundations on homes (concrete slabs or piers and beams) is basically the same. Either way, our process solves foundation repair problems. Unless you're having interior foundation piers installed, our workmen will not need to gain entry into your home in order to fix the foundation. Please bear in mind that re-shimming a pier and beam foundation does not involve installing pilings. Also, homes of that type often require that we remove and replace wooden beams, joists, sill plates, etc...

2

— To lift and support a foundation, HD Foundations installs hydraulically driven foundation piers. They are placed around the perimeter of the house or in more centrally located areas beneath the foundation. This is a standard when making repairs in the Dallas, Fort Worth and Arlington. These pilings serve as a platform upon which those portions of the foundation that are low (or uneven) will rest during the procedure. At HD, we repair house foundations using foundation piers made of concrete or steel. Their purpose is to support the load bearing weight of the house. These pilings transfer the weight of the building from the unstable, moisture sensitive surface soils to deeper layers of earth. (These areas are less affected by rain and seasonal changes.)

3 – The pilings are driven into the ground with a hydraulic ram. They're installed to what is referred to as "the point of refusal." In most cases, foundation piers are driven down about about 8-16,' although they can be placed much deeper. In the event you have a concrete slab foundation and require interior piers, we must crack the slab in order to install them.

 4

— No matter which type of foundation you have, the lowest point of your house is raised (using hydraulic bottle jacks) in order to restore your foundation to its original position. As part of completing house foundations repair projects on Dallas Fort Worth area homes, your foundation is positioned on top of these piers. During this step the project foreman will monitor how your house reacts in preparation for lifting. When that task has been completed, 3/8" steel spacers (foundation shims) are inserted on top the piers. These shims ensure that your foundation is level. Your house rests on these shims.
5— Each hole is compacted with soil in order to fill the void created when we prepared the site. Any shrubs that were removed from around your foundation are re-installed after repairs are made to your house foundation, and your yard, walkways and driveway are thoroughly cleaned, raked and washed. The property around your house will be tidy when we've finished with the project.
How Long Does It Take To Repair House Foundations?
Fixing homes in the Dallas, Fort Worth and Arlington area usually take 2-3 days. House foundation repair can move more quickly if few piers are required. Re-shim projects are typically done in one day.
The time frame can vary depending upon how many foundation piers must be installed beneath your home.
Cracked slab foundations require about the same amount of time to repair as pier and beam foundations. It takes more time to install interior foundation piers than exterior ones. That's because the installation of interior piers involves removing flooring and cracking the house's concrete slab in order to get beneath it.
To find out more, ask HD Foundations to perform an inspection on your foundation. We serve the entire DFW metroplex, including foundation repair in Frisco, Arlington, Fort Worth and Dallas. House foundation repair estimates can be scheduled free online today.