It's wise to be concerned with home drainage correction: Using French drains and surface drains. Water can do significant damage to your property. Keeping excess moisture where it belongs – away from the home – can prevent multiple problems, such as:
Eroded landscaping and sinking patios, decks and/or foundations

Soggy yard areas that make outdoor spaces unusable

Foundation damage that can result in leaks and cracks

Damp areas in yards and around the exterior of the home that attract mold, mildew, and insects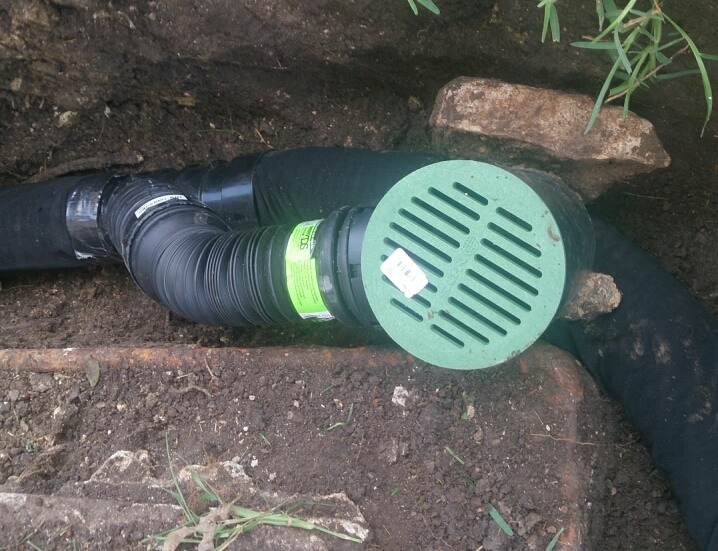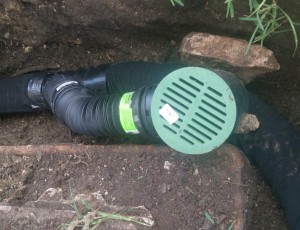 When inadequate drainage allows water to pool or invade living areas, it's time to take action to remedy the problem. In the DFW metroplex, home drainage correction is necessary due to excess rain in the area. Using French drains and surface drains can stop that problem from occurring,
What Types Of Drains To Use For Home Drainage Correction?
Generally French drains an or surface drains are needed to stop water drainage problems. Depending on the extent and type of drainage issues these are the two distinct types of drains that can provide relief from ponding or standing water around your home.
French Drains
When you have drainage problems directly next to your house foundation, French drains can provide the solution. These drains involve creating a trench deep enough to capture any water that threatens the foundation – often 36" to 48" or even deeper. This trench is constructed with a perforated hollow pipe and covered with gravel.
Water enters the trench, travels through the gravel, and is then carried away from the foundation by flowing downhill to a storm sewer or other harmless area. Here again, where gravity cannot facilitate disposal, a sump pump may be included. For pier and beam structures, water can pond in crawl spaces underneath the home, creating a moisture problem and a breeding ground for insects.
Another use for French drains is to draw water away from retaining walls to relieve excessive water pressure and subsequent weakening of the wall.  
Surface Drains
When water is standing (also called ponding or pooling) at the ground level near the home, a surface drain may be the best drainage solution to direct water to the correct area. Water is usually directed to the street. Surface drains can prevent excessive accumulation of water into the soil, which may cause heaving or undesirable pressure against the foundation, leading to structural issues.
Surface drains typically consist of a collection box or catch basin that catches the water at ground level, connected to a PVC pipe that channels water away from the home by gravity. If the terrain does not enable gravity to remove the water, a sump pump may be installed to carry the water away safely. 
HD Foundations – Your Home Drainage Solution Experts
HD Foundations has the experience and equipment required to solve your drainage problems quickly and professionally. Our foundation and drainage experts can evaluate your water issues and provide a free estimate for correcting the problem anywhere in the DFW metroplex.
Contact HD Foundations if you require home drainage correction.