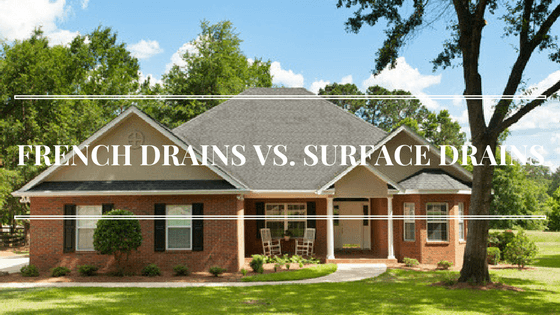 When choosing a drainage system, it's important to know the main differences between French drains and surface drains. You'll find that the primary difference between the two systems is that French drains deal with water that gradually seeps below the ground, while surface drains redirect water that's accumulating above ground. Always consider the purpose of the drain because making the best choice is important.
Construction And Installation Process Is Not The Same
When constructing a French drain, it is placed next to the house foundation and is buried underneath by an assortment of rock and gravel. A performed pipe is used in making this type of drain. Water slowly sinks into the pipe and is discharged away from the house.
The surface drain is dissimilar to a typical French drain in that it is not installed right next to the foundation, but out in the yard.  Unlike a French drainage system, surface systems utilize non-performed pipe and are designed to prevent lots of water from accumulating in low lying areas of a yard. They move vast amounts of surface water away from your home fast.
There's A Difference In Cost
The French is generally more costly to install than the surface drain because of the time and labor needed to create it. Surface systems involve less effort.  Of course, if multiple surface drains are needed, that will indeed impact price. Surface drains have grates and more parts and pieces.
 Rainwater Considerations
Some areas can be vulnerable to a great deal of rain over the course of the year, while others tend to see deluges on a less frequent basis. Depending on the location of an installation, that can make a huge difference in the final decision for a system.
The soil around a home can quickly become saturated with water because of rains or flooding. If that's the case, then French is the right choice for a drain. However, areas that find themselves quickly engulfed in water need to have drains available that can quickly divert the onslaught of water. That's where the surface option works best.
 Maintenance
Since the French variety is constructed using perforated pipe, it can become plugged up due to dirt, leaves and other debris. As a result, maintenance is generally needed on a regular basis.
Unlike French systems, surface drain pipes are not perforated, so much less attention needs to be paid to maintain them.
Choosing the Right Company
Drainage systems aren't discussed much in everyday conversation, yet they are invaluable when it comes to protecting a home. To find out more about the differences between French drains and surface drains, contact HD Foundations. We'll help you choose the drainage system that's right for you.