Most house foundation inspections cost absolutely nothing in the Dallas, Fort Worth, TX metroplex. Slabs and pier and beam foundations evaluations are commonly performed free of charge unless a structural engineer is involved. It's important to have inspections done in order to determine if foundation repair service is required.
If you have concerns, contact HD Foundations because we can give you solid information. Since the cost of foundation inspections is not really an issue, it's wise to have a professional evaluate your structure.
It's also important to find out what a house foundation inspection involves. Experts know exactly what to look for when evaluating foundations for damage and can also provide you with important information about foundation repair.
Does The Size Of My House Affect What Foundation Inspections Cost?
No, the evaluation should still cost zero as long as your house is in the Dallas, Fort Worth area. Fees are generally waived on houses, apartments and commercial properties all throughout the metroplex. What's more, unless it's a large property, it generally only takes about an hour to complete an inspection. To ensure best results, your foundation would be scrutinized inside and out in order to determine where the most destruction has occurred. It is also critical to ascertain if you require interior piers or exterior foundation piers, and calculate how many of these you may need. If, after evaluating your property HD Foundations determines that you need these installed around your foundation, we'll let you know right away.
In the event that your foundation has been destroyed, you'll want to obtain a foundation estimate for repairs and also find out if you will need an engineering report. Costs for these special reports can range between $300-$600 in the DFW area, but it's only after the initial inspection is performed on your foundations that this report may be recommended. After carefully evaluating your foundation, they'll tell you what, if anything, it will cost to fix it.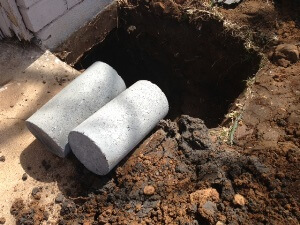 To verify what, if anything, a contractor would charge you to inspect your structure, just call HD Foundations. We're contractors who offers free foundation repair estimates and examine foundations all the time. And heres' something to keep in mind:  While our foundation inspections cost nothing, there may be fees involved if we (or any other foundation repair contractor) has to drive a very long distance in order perform the inspection, although that's rare. Due to the high price of gasoline, some companies who provide local service charge a relatively small price to offset these charges. The time they devote to physically examining your foundation for signs of damage usually isn't billed.
Get A Free Foundation Evaluation On Slab, Pier And Beam Foundations, Plus Repair Estimates.
If you see damage and need for a contractor to evaluate your structure, get a comprehensive foundation inspection at absolutely no cost to you. Just contact HD Foundations online today. Or, give us a call. We service the entire Dallas, Fort Worth area.
Updated 6/22/2021