When reviewing Fort Worth exterior pier foundation repair, HD Foundations encourages you to consider the two most popular types of foundation piers. The first thing you'll want to study is piers foundation repair contractors in Texas use. This includes professionals restore exteriors using concrete or steel piers. You'll learn that pressed concrete piers are the type of pilings contractors most often use when repairing foundations on both slab and pier and beam structures in the metroplex. They are generally used when fixing the interiors of foundations as well as the exteriors.
While there are many different types of supports used for performing foundation repair on the exteriors of houses, it is generally agreed that the best, inexpensive foundation piers used for exteriors are concrete piers. They're utilized by contractors in the Dallas and Fort Worth area because they're available at a fraction of what steel piers cost. This makes them highly affordable when fixing the exterior around house foundations. The cost of installing exterior piers made of steel can be five times what concrete foundation piers cost. It's also important to note that most Texas foundation repair contractors, including HD Foundations, warranty these piers, so if they do move or shift, adjustments will be made to them free of charge. The same is true with interior piers. These foundation pilings are installed to what is called the "point of refusal." Basically that means that they're pushed down as far as they can go before encountering resistance. When contractors are repairing foundations in this area, it's usually not more than 10' deep.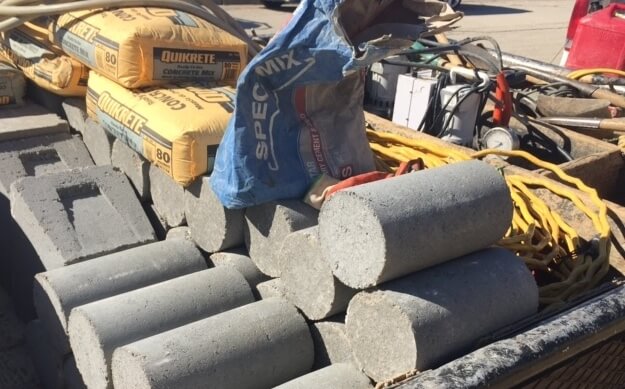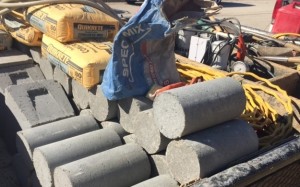 Concrete piers are excellent, heavy-duty cylinders that are used around exteriors, are around 6" around and 10" long. They weigh a lot and are very sturdy, which makes them one of the best choices to use. When installed in the DFW area, these long-lasting piers are generally placed about 8-12' deep around the exterior of your foundation, although in some local cities, they may be installed as deep as 22' or more. That's because the soil is extremely deep in particular areas. The idea behind using steel piers around foundation exteriors is to drive them into the soil until they reach solid bedrock. If they're not installed around the exterior of your foundation properly, they will bend under the load bearing weight of the house foundation, so it's imperative that they are installed correctly and do, in fact, reach solid rock. Interior foundation piers manufactured out of steel or concrete must installed very carefully, too.
One question that the contractors at HD Foundations are generally asked is: Steel piers vs. concrete piers: which is best for foundation repair? The answer to this depends on how deep the soil under the exterior of your foundation is, how long you intend to live in your home and how much money you're prepared to allocate to the cost of repairing your foundation. Concrete piers are best if cost is a consideration and the earth is not excessively deep. A reputable contractor can determine which exterior piers will be best under your foundation, and then make repairs by installing piers that will make your property level.
At HD Foundations, we make exterior repairs to foundations using both types of piers. Each of these pilings provide excellent solutions to foundation problems and can make a house level and stable. If you have foundation damage and want to install the exterior piers that the best foundation repair contractors in Texas use, contact HD Foundations in Fort Worth for a free foundation estimate online today. We'll tell you if you should install concrete or steel piers.
Updated 7/27/2021