Homeowners new to know if insurance covers foundation repair. After all, there seems to be no limit to the costs you can incur. From general maintenance to big-ticket expenses, a surprise expense can come around at any time. If you're not financially prepared, it can cause a hardship on you and your family.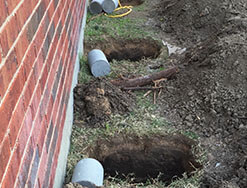 In order to protect ourselves financially, we buy home insurance to cover damages and liability. Unfortunately, many people don't understand exactly what their home insurance covers and what it does not cover. The only way to know if insurance will cover your foundation is to check with your individual insurance provider. In most cases, insurance does not cover foundation repair claims. While this can be very distressing to homeowners, it is important to have your foundation repaired anyway. If you don't, the damage will spread and get worse.
When Does Insurance Cover Foundation Repair?
Insurance may cover foundation repair 
If a natural disaster damages your foundation
If your house has massive plumbing leaks or has flooded
If your foundation has been affected by a fire or an explosion
Cracks, leaks, drainage issues, and uneven floors can all be signs of a foundation in need of repair. Once you have a professional come out and give you an estimate you could be looking at some big payments. Fixing a foundation can be costly. The amount the insurance company will pay depends on the extent of the damage. Making minor repairs on a foundation is much more affordable than making extensive foundation repairs. If you think insurance will cover your foundation repairs costs, we urge you to get a free foundation repair estimate to learn exactly how much it will cost to fix your structure.
Finding Our If Your Foundation Is Covered:
Now that you have an estimate on how much your repairs will be, you might want to see if insurance on your home will be able to help offset the cost.  If any of the circumstances below apply to your damage or if you have separate earthquake or flood policies it's worth giving your insurance company a call.
We know that foundation repair is something you don't want to spend money on, however ignoring your foundation issues will only increase the damage and eventual cost. It's important that once you notice an issue you contact a professional to learn your options.  If you're in the Dallas, Fort Worth metroplex, contact HD Foundations.