Determining if you should buy a house that had previous foundation repair can be easy if you ask the right questions about the Dallas-Fort Worth house. Actually, it's just fine, assuming the property has been fixed and all the circumstances are right. If a highly reputable company performed the work, and a licensed, structural engineer thoroughly evaluated the work, its safe to buy a home that has had previous foundation trouble. In fact, it may even be beneficial.
What You Need To Know Before Buying A Home With Previous Foundation Problems: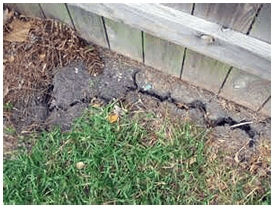 Do you want to know when and if it's OK to buy a house that's had previous foundation repair? If so, we hope the following information will answer your questions on this topic.
Over a period of time all homes settle into the ground. In certain areas of the country, like North Texas, which has clay soils and there are periods of intense heat followed by months of very cold weather, the shifting of the soil can be particularly troublesome. Clay soils expand and contract more than many other types of soil and cause the ground to shift. As a result, home foundations will move little by little for years. Over a period of time, the foundation piers under the home sink further and further into the ground. Because not all of the foundation piers sink at exactly the same time, the house will eventually not be level. When buying a house had previously foundation problems and repairs in the DFW area you need to know when the repairs were done, by who, how many piers were installed. and much more.
How Drainage Issues Cause Affect Foundations:
If your home has a foundation drainage issue, or plumbing leaks under the concrete slab or pier and beam foundation, a large amount of moisture around your foundation can also cause the home to sink and shift. In order to avoid these types of problems, it is important to make sure that your have an adequate foundation drainage system around your property, and that you maintain a constant moisture level around your home's foundation. This means watering your yard in the hot summer, and preventing moisture from accumulating around your foundation in the wet, rainy months.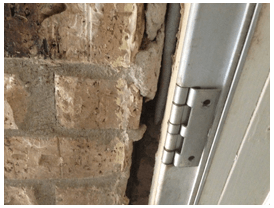 It's important to note that foundation problems generally start in one specific area of a home, and are visible on one side of the house before the other. Signs of foundation problems can vary and include uneven floors, cracks in ceilings, walls and floors, doors that don't close property, a cracked chimney, and many other things.
Why Buying A House That's Had Foundation Repair Can Be Good:
The reason it may be beneficial to buy a DFW area house that was recently fixed is that because extensive sinking and shifting of the soil has already occurred, any new piers installed will now be positioned on more stable load bearing soil. Think of it this way: If the home has already sunk fairly deeply into the ground, once you fix it, it won't have as far to sink in the future because the ground has settled and is more stable. In fact, the home is probably more stable than ever. Of course, this only applies if the repairs were made correctly. For this reason, it is extremely important the foundation repair work was done by an experienced company that offers a lifetime warranty on their work.
How To Know If A House Has Had Previous Foundation Repair:
The first thing to do is question the current owner. Before buying any house, you should have an independent inspector thoroughly evaluate the structure and look for any signs of previous repairs. If the house was fixed in the past, it's extremely important to determine if there is a transferable warranty on the work that was done. This warranty could prove valuable.
If your property is damaged or you need drainage correction, contact the foundation repair contractor that offers free repair estimates and a lifetime  warranty on any work performed on your home or property.