Foundation Repair

---
HD Foundations has offered exceptional foundation repair service to property owners in Fort Worth, Arlington and surrounding DFW areas for many years. At HD Foundations, we service a variety of foundations. Whether you're having major foundation trouble or have recently discovered cracks in your foundation, our dedicated team can provide you with prompt, efficient service.
If you've noticed issues affecting your house or structure, the foundation repair services we offer can be of great benefit to you. So ask us to stop by and evaluate your foundation. You can count on us to make your property stable. If you require assistance with a beam and pier foundation, we're the trained professionals to call. We deal with troublesome issues ranging from cracked slabs to sinking foundations. It's important to recognize that many different things can compromise the integrity of your structure's foundation. If worn pipes are causing leaks in your plumbing system, they may cause harm to your foundation. Soil that expands and contracts can also lead to foundation settling. Expansive clay soil is one of the primary causes of damaged foundations. Believe it or not, trees can also be the source of foundation concerns. Because their roots suck moisture from the earth, they can contribute to frustrating foundation woes.
Quality Foundation Repairs in Fort Worth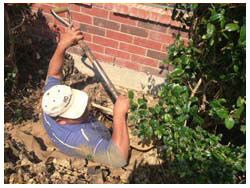 If your local area has experienced severe weather conditions, it may have affected your slab foundation. In the event you think you may have issues with your slab foundation, alert us immediately. It pays to take proactive measures. When you contact HD Foundations for foundation repairs, you can be assured that we do expert work. Our company caters to property owners that have all types of foundation needs. Property owners who enlist HD Foundations can stop worrying about their substructures. Our team is fully familiar with foundations and we're highly experienced contractors. We even offer in-depth foundation assessment services. Whether you need repairs on the foundation of your house or commercial property, our company will put your mind at ease. While superior foundation repair is the primary focus of our A+ BBB accredited company, it is not the only service we offer. In addition to performing foundation drainage correction, we provide superior driveway repair and concrete repair service.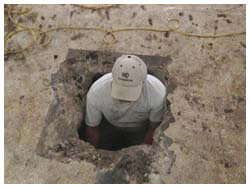 For top-notch foundation repair Fort Worth property owners can count on, call the qualified professionals at HD Foundations. We're can be of real assistance. Because of expansive clay soil, foundation repairs are commonly needed by residents of this Texas city. It is natural for foundations to experience movement over time. When foundations shift, serious problems may arise. These should be addressed immediately. If you suspect that your home or other structure might have foundation trouble, it's best to call HD Foundations right away. That's because your foundation damage will only become increasingly worse. HD Foundations offers free estimates and a lifetime warranty on its services. Contact HD Foundations to schedule your appointment today.