For Foundation Repair Arlington, Ft. Worth, Grand Prairie, Mansfield, Dallas, Plano, DFW and beyond, call us. We're the best in Texas.
At HD Foundations, we're known for being the "Heavy Duty" foundation repair company that services  Arlington, Ft. Worth, Grand Prairie, Plano and the entire DFW area. We have a Better Business Bureau (BBB) rating of A+, and a great reputation for helping area property owners. If you ask us to evaluate your foundation, we'll tell you the honest truth. Whether you enlist HD Foundations for home foundation repair, apartment foundation repair, townhome/commercial foundation repair, or any other service, your property is protected for years to come. That's because when we repair your foundation, we make sure it's heavy duty — and that means Texas strong.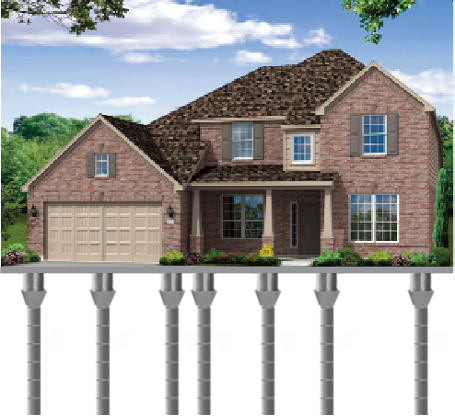 HD Foundations specializes in all areas of cracked concrete repair including the installation of concrete piers or steel piers. We also repair concrete slabs or pier and beam foundations. While our company is well known for home foundation repair in Arlington and DFW, we also offer commercial foundation repair services. This includes church/school foundation repair in Arlington and surrounding areas. We even provide expert concrete repair, crack repair and drainage correction services.
As a local company that is headquartered midway between Dallas and Ft. Worth, we serve customers all across the metroplex. So no matter what neighborhood you're in, you can call on us to provide you with the highest level of service and the highest level of customer satisfaction. It's all part of HD Foundations' strong commitment to lifting your home to a new level of quality.
Why wait? For heavy duty foundation repair service, call HD Foundations for concrete piers or steel piers. And don't forget that we also provide crack repair and drainage correction services. Contact us today for a free foundation repair or drainage correction estimate. We'll be happy to stop by and evaluate your needs. For foundation repair in Arlington, Ft. Worth or anywhere in the DFW area, call the company that has solid experience
— call HD Foundations