Slab Foundations
Slab foundations provide several vital advantages to properties, making them a great fit for many homes. This foundation may be an excellent option if you're looking for an energy-efficient, cost-effective, flexible design requiring minimal maintenance. However, a concrete slab foundation also has drawbacks you should be aware of. Learn about the benefits of this type of foundation and the factors you should consider before choosing a slab foundation for your home.
What is a Slab Foundation?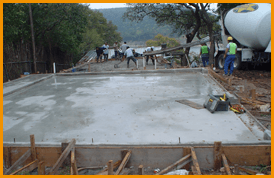 Also known as slab-on-grade foundations, concrete slabs are constructed by pouring a layer of concrete onto the ground where you intend to build your home. It's one of the most popular foundation systems today but not necessarily the best for all houses and buildings. Many home builders prefer using it for structures in warm climates and places with lower moisture content in the soil.
This type of foundation is affordable for many homeowners, and they're easy to build. The concrete pad is typically around four to eight inches thick. The concrete mix is poured on top of a bed of crushed stone, sand, or gravel base, creating better drainage. This material layer also acts as a cushion for the entire home.
This mixture creates a solid concrete base for homes, providing stability for other structures to be built on top. In addition, the slab edges are often designed to be thicker to offer better support for the walls to be added later.
Here are some vital key points you should remember about a concrete slab foundation:
This type of foundation is preferred in states and territories where the weather is warm, and the soil doesn't tend to freeze. Exposure to freezing temperatures over a long period can cause cracks on this type of foundation.

There is less risk of damage when constructing slabs for your home's foundation.

Since it is easier to build, it can help reduce the cost of constructing your home.

However, you may have to construct your heating and cooling systems on your home's ground floor since no crawl space is available.

It can improve a home's accessibility, making it easier to navigate your living spaces.
How are Slab Foundations Built
Slab construction is straightforward, which helps to reduce costs. After site preparation and minimal excavation, formwork is installed to define the structure and shape of the entire slab. Reinforcement is then placed, such as reinforcing bars and other structures. The sand layer or gravel is compacted. Plumbing, water lines, and electrical are then laid down. Concrete is poured, finished, and cured when all these preparations are set. Finally, the frameworks are removed after the concrete has hardened.
Types of Slab Foundation:
Contractors use several types of slab foundations and each option offers certain advantages:
Slab on Grade or Monolithic Slab:

This foundation is the conventional type of slab, also known as a flat slab. It consists of a thick single layer of concrete that serves as the floor and foundation of a home.


T-Shaped Slab:

This design incorporates the use of T-shaped feet embedded into the ground before pouring in concrete, which helps protect the slab from freezing temperatures. This option is more expensive than other slab designs.


Post-Tensioned Slabs:

This slab incorporates tendons or steel cables embedded within the concrete, which creates compression. This design also mitigates soil movement and cracking.
Pros of a Slab Foundation House
A concrete slab foundation offers several advantages over pier and beam, as well as other foundations that require excavation:
Cost:

Considering the overall construction cost, a concrete slab foundation can be cost-effective per square foot. It only requires constructing a single solid base for your home without the need for crawl spaces or other excavation forms. Given these features, the cost of producing a slab for your home's foundation becomes significantly lower.

Easy to Build:

A concrete slab foundation is easy to build, and the concrete can dry quickly, given favorable weather conditions. In many instances, contractors can complete a slab's construction with a single concrete pour. This feature translates to a reduced waiting time and faster overall house construction.

Low Maintenance:

A concrete slab generally requires less maintenance than other homes or building foundations. There is no need for regular inspections, and you don't have any posts to check and treat. Slabs are not prone to warping and rotting and are not affected by insect infestations. In the long run, you save money over time due to reduced maintenance costs.

Energy Efficiency:

Concrete slabs have a higher thermal mass, which allows them to absorb a lot of heat from the soil underneath your home. This feature allows for better indoor temperature regulation, allowing you to reduce heating and cooling costs over time.

Stability and Durability:

Concrete slabs provide a level and stable base for constructing a house or building. They can help minimize shifting and uneven settling. Further, they also have a high weight-bearing capacity.
Cons of a Slab Foundation House
While concrete slabs offer cost savings and other benefits, it does have a few disadvantages you should be aware of. Make sure to consider these downsides when making your decision.
Prone to Ice and Freezing Damage:

Even if you can provide insulation and other protective measures from freezing and ice, concrete slabs are still prone to damage from extremely low temperatures. Concrete tends to crack with prolonged exposure cold temperatures. The cracks caused by freezing temperatures can lead to moisture accumulation, which seriously impacts the foundation.

Gas and Water Line Construction:

Gas and water lines must be embedded within a concrete slab foundation. When these pipes and lines wear out, it will be necessary to break into the foundation to replace the broken water or gas lines. This effect increases the water and gas line repair costs, extending the time required to fix your systems.

Difficult Access:

Since gas, water, and plumbing lines are embedded within the concrete, it makes it challenging to access these pipes if you want to make an upgrade or repair.

Susceptibility to Moisture Problems:

While concrete is moisture resistant, concrete slabs can still experience problems under certain conditions. If there is poor soil drainage or the water table is too high, water can still accumulate around the slab, leading to mold growth and water seepage.
How to Decide if You Should Opt for Slab Foundation for Your New Home
Deciding whether to build your house on a concrete slab requires careful consideration. After considering the pros and cons mentioned earlier, evaluate several important factors before making a final decision:
Local Soil Condition Assessment:

Since slabs can be affected by climate and local soil conditions, it is vital to conduct an environmental assessment first before starting any construction work. Hire professionals who can run these tests for you. They can also determine the level of the soil's weight-bearing capacity. A geotechnical engineer or other professional with the same capacity can conduct soil analysis. It is important to note that some soil types won't be able to provide enough support for concrete slab, such as loose sand and expansive clay.

Flat Ground:

If the land you're building your home on has more flat features, a concrete slab can make the perfect foundation for your house. You may have to regrade some sections, but slabs make sense when constructing on generally flat ground.

Consider the Local Climate:

The local climate in your area can significantly impact the quality and longevity of a concrete slab. Frost and other freezing environmental effects can cause concern, and it may be better to consider other options. However, if you prefer a slab-on-grade foundation, consider adding insulation to your home's foundation. It is also best to use other preventive measures to protect the concrete from thawing and freezing cycles.

Shallow Bedrocks:

If the soil on your land has a shallow bedrock, it can get in the way of any excavation to create a deeper foundation. In this situation, a slab-on-grade foundation better fits your home.

Cost Considerations:

Concrete slabs provide a cost-effective solution for a home's foundation due to the lack of basements and crawl spaces. If you prefer a home that doesn't require any excavation, then this type of foundation may be a perfect fit for you. Consider your budget and the needs of everyday life when making this decision for your home's design.

Water Table and Drainage:

Pay attention to the soil's drainage characteristics and water table level on your property. It is important to note that slabs are more susceptible to water damage due to consistent contact with the soil. If the water table is too high or the ground doesn't drain well, it may be best to consider other types of foundations. However, if you insist on slabs, it would be best to take measures to improve soil drainage.

Accessibility Needs:

Consider your current and future accessibility needs. A slab-on-grade foundation offers better accessibility, which benefits seniors and others with mobility challenges. It may also be an excellent fit for families with small children since there will be fewer obstacles to your home's floor design.

Home Design Requirements:

Consider your home's architectural design, floor plan, and the layout of your property. A slab-on-grade foundation offers plenty of flexibility in terms of home design since you're working on a flat surface. It provides better support for open floor plans since no support columns and other structures interfere with most of your living spaces.

Professional Advice:

It would be best to consult professionals and ask for expert recommendations. An experienced foundation contractor can assess conditions on the ground to determine if a slab-on-grade foundation is suitable for your property. They can provide climate, soil, cost, and material availability insights.
Get Expert Advice From Slab Foundation Specialists
Do you need expert advice on whether a slab foundation suits your home? Seasoned foundation specialists from HD Foundations are familiar with local building codes, weather, and soil conditions in the Dallas and Fort Worth areas.
We can provide you with an accurate estimate of your project upon request. Call today or fill out this form to schedule a free quote.