Updated 4/24/20
In the Dallas, Fort Worth metroplex, wet slab foundation drainage issues and prevention is an important topic. If you're a homeowner, it's worth studying. That's because a moist concrete slab can indicate drainage problems. Excessive rainfall can ultimately cause slab foundations to become wet and heave. That may result in structural damage. If you've noticed that your foundation is damp, contact a drainage contractor or foundation expert. It's wise to have your Dallas, Fort Worth area structure evaluated.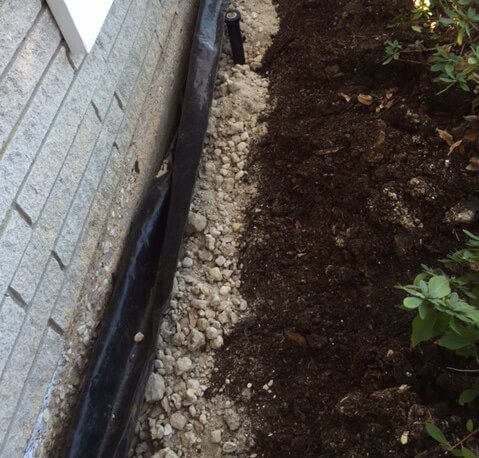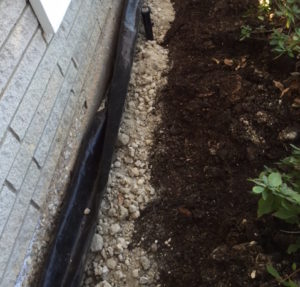 How To Prevent Wet Slab Foundation Drainage Issues?
One way to avoid problems is to install a French drain around your foundation. They're typically 12″-18″ deep and can be as long as needed. An experienced drainage contractor can install a system that will resolve the problem.  Of course, if the trouble is due to lots of surface water, that means that you'll require a surface drain or sump pump. Point is, it's imperative to prevent the water from seeping beneath your slab foundation. It's also necessary to prevent it from coming in through the exterior brick. Remember, brick is porous and has weep holes. If the soil under your concrete slab is excessively damp, you may notice that your floor or carpet padding is moist. You may also discover that the sheetrock in the lower portion of your walls is wet. This means that the water is rising up from under your slab foundation and creeping into your house. If you have foundation cracks, you may even notice tiny bubbles coming up from the floor. An abundance of moisture can cause your foundation to heave and break. Over time these issues will get worse and could create the need for slab foundation repair. That's why you need to take steps to prevent foundation damage from progressing.
Who To Call If Your Foundation Is Wet:
If you believe you need to have a drainage system installed, contact a drainage contractor who has is experienced in dealing with these sorts of problems. Or, if you feel certain that moisture in your foundation is not related to drainage issues, then it's most likely the result of broken plumbing pipes. If that's the case, you should a contact a licensed plumber. Ask them to conduct a test to determine where the water leak is originating and fix it. Once you've dealt with that, it  would be a good idea to contact a foundation repair company and have have your structure inspected.
At HD Foundations, we're contractors who install drains and repair concrete slab foundations. So if you're having moisture problems, we can help. To find out more, contact us. We do free foundation inspections and drainage evaluations all across the DFW metroplex.