Updated 8/23/2023
Ensuring the stability of your home becomes paramount when you notice problems with the foundation. Homeowners need to decide whether to use concrete piers vs. steel piers when addressing foundation problems. Each option provides specific benefits and offers various applications. Property owners need to understand the differences between these two solutions to make an informed decision.
Concrete Piers vs. Steel Piers
Piers are structural supports contractors use to strengthen and stabilize your home's foundation. These supporting structures provide crucial reinforcement, preventing structural damage and settlement. Aside from enhancing the foundation's stability, they also improve the load-bearing capacity of the foundation. After a successful installation, piers ensure the integrity and longevity of buildings, homes, and other construction.
When you work with seasoned contractors, like those from HD Foundations, these professionals can recommend steel or concrete piers. It is important to note that each support type has advantages and disadvantages. It's best to work closely with your contractor to determine the best option for your home.
Why Use Steel Piers
Steel piers offer certain advantages since they can be installed up to 75 feet deep. At that depth, these piers provide unmatched stability even if you're dealing with challenging soil conditions. Further, steel is a durable material that lasts a long time. If the soil in your property goes down 22 feet or deeper, you will need steel pilings to ensure structural stability.
Since steel pilings are installed deep into the earth, soil movement does not affect them as much compared to concrete and other foundation piers. For this reason, it is best to work with foundation repair professionals and have the soil examined.
However, this support option's drawback lies in its cost. Using them, homeowners will incur higher upfront costs since steel piers are expensive to manufacture. In addition, contractors need to use specialized equipment to ensure they are installed appropriately and at the recommended depth.
Pros
Exceptional Depth:

As mentioned earlier, steel piers can be driven up to 75 feet into the soil. This means they can reach solid bedrock and provide outstanding stability. This feature makes steel piers ideal for dealing with challenging soil conditions.

Minimal Maintenance:

Once properly installed, steel piers require minimal maintenance, offering peace of mind for homeowners.

Durability:

Steel is a very durable material. It is resilient and ensures that piers remain unaffected by soil movement. Consider steel piers as long-lasting solutions, potentially reducing costs in the long run.

Higher Support Capacity:

Steel piers can bear heavier loads, making them suitable for larger and heavier structures.
Cons
Higher Cost:

Steel piers come at a higher price due to costly manufacturing, and they require specialized installation equipment.

Complex Installation:

Installing steel piers require a more intricate and time-consuming process, extending the repair timeline for your project.

Depth Precision: Proper installation depth is crucial when using steel piers. If they are not driven deep enough, they may not provide the desired level of stability.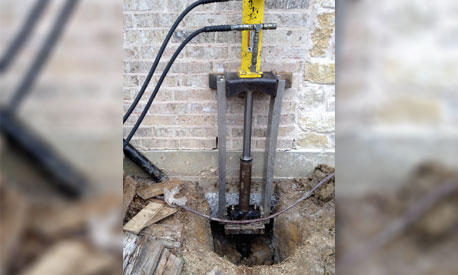 Why Install Concrete Piers
On the other hand, concrete piers offer a more cost-effective solution compared to their steel counterparts. This type of pier requires simpler installation, which makes the process comparatively easier. Even though concrete piers do not penetrate the same depth as steel piers, they are suitable for various soil types in the Dallas-Fort Worth area.
Concrete piers offer longevity and stability, but they will need adjustments some time along the road. Homeowners looking for more affordable options and added versatility should look into the benefits of using concrete piers for their homes. Further, if the depth of your home's foundation only needs around 12 to 15 feet, a concrete pile will be enough for your property.
Pros
Cost-Effective Solution:

Concrete piers are a budget-friendly option compared to steel piers. They are attractive for homeowners looking for quality and stability without breaking the bank.

Versatility:

Suitable for most soil types in the Dallas-Fort Worth region, making them a practical choice for many properties.

Simple Installation:

Concrete piers have a straightforward installation process, resulting in quicker project completion.

Flexibility:

If slight adjustments are needed over time, professionals can easily modify concrete piers.
Cons
Limited Depth:

Concrete piers do not reach the same depths as steel, making them less suitable for extremely challenging soil conditions.

Maintenance:

Occasional adjustments will be necessary to maintain structural stability and address soil shifting over time.

Load Capacity:

While generally robust, concrete piers might have limitations in supporting extremely heavy loads.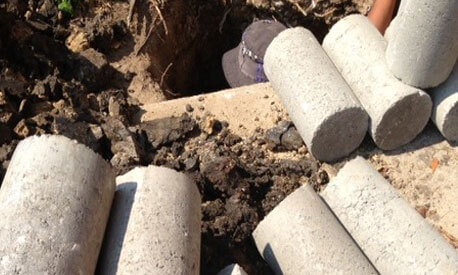 Comparing The Two Types Of Piers
When you compare concrete piers vs. steel piers, it is crucial to compare the features of each option. Consider installation time, durability, methods, applicable building sizes, and pricing.
Installation Time and Process
Consider the amount of time needed to install piers to support your home's foundation. The additional time and complexity will raise costs.
| | |
| --- | --- |
| Steel Piers | Concrete Piers |
| Installing steel pilings requires a more intricate installation process using specialized equipment, extending the necessary repair timeline for your project. However, this option offers long-term stability with little maintenance. | You only need to go through a simple and faster installation process for concrete foundation supports. This is the ideal option if you're interested in a faster solution. Periodic adjustments will be necessary due to the impact of soil movement. |
Durability
After the piers have been installed, the next question is how well can these support structures handle the weight of the building combined with the stress from natural elements.
| | |
| --- | --- |
| Steel Piers | Concrete Piers |
| Concrete piers have a load-bearing capacity that ranges from 55,000 to 60,000 psi, allowing them to lift sinking foundations back into their proper place. These support structures are best suited for large buildings constructed on frequently wet soil. | Concrete pilings have a load-bearing capacity of 3,000 to 4,000 psi. To further enhance this capacity, on-site crews add reinforcing bars. These rebars will add more tensile strength to the existing piers, preventing cracks and excess soil shifting. |
Alternative Installation Options
Other than the traditional installation method, each option has different alternative installations that can be used depending on certain factors, such as the soil condition.
| | |
| --- | --- |
| Steel Piers | Concrete Piers |
| Instead of using segmented pipes, repair crews use helical piers for installation. They look like large helix-shaped screws driven by a high torque machine to lodge the piers into the ground. This method creates a secure fit. Additional segments will be added to the pier until load-bearing soil is reached. | Foundation repair specialists can use the pressed piling method as an alternative to pouring freshly mixed concrete into the pile hole. This method uses precast concrete cylinders. The crew uses a hydraulic tool to press the cylinder into the ground. |
Longevity
Apart from the estimated durability of concrete or steel piers, another critical concern is their longevity. Professionals can assess how long these support structures last before a replacement is required.
| | |
| --- | --- |
| Steel Piers | Concrete Piers |
| Steel piers can last 50 to 75 years after installation, depending on the steel used in construction. Non-galvanized steel piers need a replacement sooner due to corrosion. | Concrete piers can last over 75 years. However, they can be impacted by several factors, including water pooling, poor drainage, poor installation, inadequate footings, and the absence of rebars. |
Size and Type of Building
The height and weight of the building or home being supported will impact the type of piers used. In addition, the length and width of the structure will determine which type of pilings are best for your project.
| | |
| --- | --- |
| Steel Piers | Concrete Piers |
| Steel piers are best suited for larger projects such as multi-story offices, warehouses, apartment buildings, high rises, and production facilities. Due to their outstanding durability, they provide better foundational support even when the soil shifts. | Concrete piers are better suited for smaller structures due to their smaller capacity. You can use them for small to medium size homes, shops, and small-scale storage facilities. In some situations, concrete piers can also be used as a replacement for steel piers during repair and maintenance work. |
Soil Depth
The soil depth is crucial to selecting piers for foundational support. The goal is to reach the foundational soil using the pilings to ensure the foundation's structural integrity.
| | |
| --- | --- |
| Steel Piers | Concrete Piers |
| Steel piers can penetrate up to 75 feet deep, making them an excellent option for projects requiring maximum stability with challenging soil conditions. | Even though they cannot reach the same depths as steel piers, concrete piers can be used for most soil types found in the Dallas-Fort Worth area. It is essential to check the soil conditions and depth in your area. |
Pricing
Homeowners and businesses need to consider their budget when selecting the type of piers to use.
| | |
| --- | --- |
| Steel Piers | Concrete Piers |
| If you prioritize long-term stability for larger projects and are willing to invest more funds into your project, steel becomes the better choice.  | Concrete piers provide affordable solutions to foundation problems without compromising quality. Make sure to include future maintenance work in your long-term budget. |
Choosing the Correct Type of Piers
There are several factors to consider when choosing between concrete piers vs. steel piers.
Soil Condition:

Consider the soil depth and type on your property. Some soil conditions can be more challenging.

Assessment:

Always have professionals determine the condition of the foundation. They can recommend the best-suited pier type for the project.

Building Type:

The dimensions, size, weight, purpose, and design of the building will impact the selection of piers to be used.

Long-Term Applications:

If you intend to stay on the property for an extended period, choose the pier type that offers better long-term stability.

Budget:

Balance the cost and the long-term benefits provided by the piers.
Work with Foundation Repair Specialists
Your HD Foundations team provides robust foundation repair solutions, providing long-term stability and longevity for your property. We are familiar with local soil conditions in the Dallas Fort Worth area and perform thorough soil testing to determine the best-suited pier type for your project. Call today or fill out this form to schedule a free estimate.