Foundation Repair Euless, TX
Call HD Foundations. We're Euless Foundation Repair Contractors That Utilize Great Methods.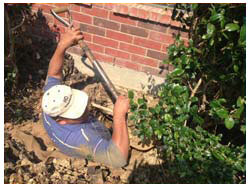 For foundation repair in Euless, TX, rely on contractors that can really help. Contact HD Foundations. We use effective techniques, offer free foundation evaluations and a lifetime warranty.
HD has served the Mid Cities and Euless for years. As a solid foundation repair company, we guarantee the foundation piers we install. So contact us for a no cost foundation evaluation today.
Why HD Foundation Repair In Euless:
We're contractors who stop slab foundation and pier and beam issues. HD ends foundation cracks, sinking and settling.
Our foundation company has worked with North Texas soils for years. We know how they react to heat and moisture. We stop foundation repair problems.
We're a Euless foundation repair contractor that prevents structural foundation damage. Our services help you avoid foundation upheaval and other kinds of moisture related trouble.
We've earned an A+ Better Business Bureau rating.
What Methods Does HD Use For Repairs:
We install pressed steel foundation piers or pressed concrete foundation piers. We've installed both types in Euless for years.
When needed, HD installs and adjusts foundation shims. It's not uncommon for a foundation to require a re-shim using 1/4″ steel plates.Our foundation repair methods make your home upright and stable. Our procedure for house leveling prevents ongoing foundation problems. That protects your structure.
As part of our crawl space repair process, we check under house foundations for mold and wet crawl space damage. It often affects pier and beam structures and often requires replacing beams, joists and other wooden members. Even slab foundations get water damage. If a French drain or other system is required, we can install one.
Obtain A Great Foundation Warranty And Free Estimates: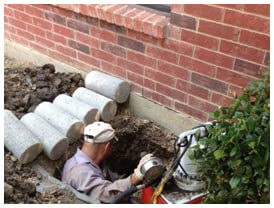 Our company provides customers with a lifetime foundation repair warranty. To stabilize your commercial structure, apartment building or residential property, get a Euless foundation repair evaluation free. Schedule a foundation evaluation online today. Or if you prefer, please give us a call. We service the entire DFW metroplex.