See foundation issues? Learn what the causes of foundation failure are. Certain conditions are more likely to affect foundations in the Dallas, Fort Worth, TX metroplex than others. All types of houses, including those with have concrete slab foundations are likely to collapse at some point. The same is true of structures that are constructed with pier and beam foundations. If you see signs that your foundation may be failing or deflecting, find out what is causing that to happen by contacting a reputable contractor. Cracks that are more than ¼" wide should definitely be inspected.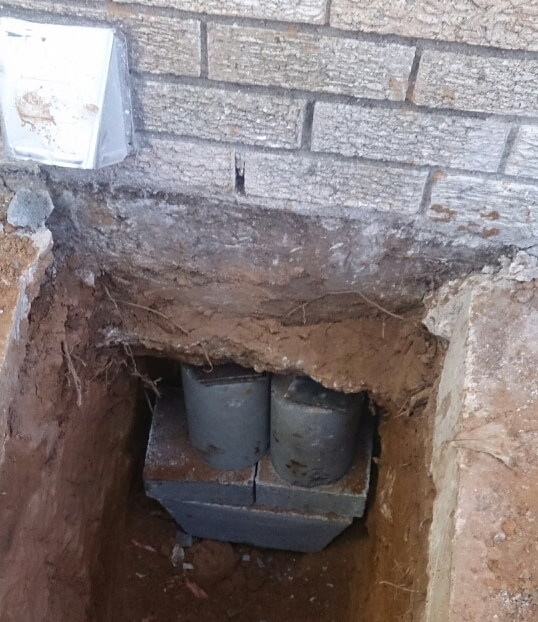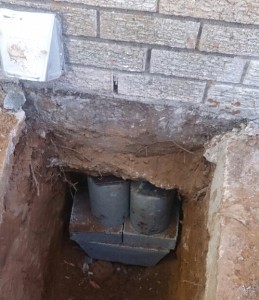 Soil Affects Concrete Slabs and Pier And Beam Foundations. The Causes Of Foundation Failure Are Many.
As many homeowners in the Dallas, Fort Worth, Arlington area have discovered, one of the main things that can cause a foundation to collapse is North Texas soil conditions. Because the earth in this area is expansive in nature, it can make your concrete slab or pier and beam foundation shift by as little as 1/2" or well over 8," and eventually lead to cracking. A small crevice that begins as as a hairline fracture can eventually become very large gap. Just as importantly, inadequate foundation drainage around a concrete slab can also cause a foundation to fail. Water can make your foundation move and is one reason you might develop issues. Due to recent flooding in the DFW area, this is a real concern. When moisture permeates a slab by seeping through the cracks, a variety of foundation problems can occur. If you've noticed that your carpet is moist or smells musty, it's best to investigate and possibly install a drainage system. That's because if moisture is the one of the causes of foundation failure in concrete slabs or pier and beam houses, it's a serious situation that could prove costly to fix unless the issue is addressed right away. To end what's creating trouble, you may need to install a foundation drainage system. Or, if your structure is seriously damaged, you'll want to enlist a foundation repair contractor to install foundation piers beneath your house and make it level again. While a variety of piers are available, piers made of concrete or steel are most commonly installed in this area.
Of course, before anything can be done, you'll need to contact a professional and ask them to perform an inspection. It's imperative to determine exactly what's causing your slab foundation to fail. It could be concrete cracks, or that small or large leaks in your plumbing system are the culprit.  If the water bill on your Dallas, Fort Worth property is high, this could explain it. To get more information on the subject, learn more about how plumbing leaks damage concrete slab foundations and can ultimately cause a foundation to fail. You may require foundation repair service. If you suspect that you have problem of this type, it's a good idea to contact a licensed plumber and have them test for under-slab leaks. For a cost of about $300, they can perform hydrostatic testing on your system and determine exactly where any leaks are originating. While the pros at HD Foundations are not plumbers, we can put you in touch with a licensed professional who is.
In addition to the soil conditions, foundation drainage issues and plumbing problems, there are quite a few other things that can be the source of foundation issues. It's important to determine the reason your structure is collapsing. If you live in the local area and would like to have your slab foundation or pier and beam structure inspected, or if you require a drainage system or foundation repair service, contact us today. We perform no-cost estimates.
Updated 3/6/2023