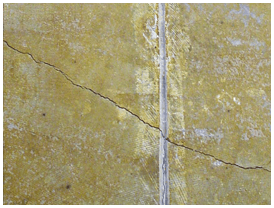 Updated 5/11/2020
There are a variety of things that can cause floor cracks in the Dallas-Fort Worth area. The first and most common reason is a change in the moisture content around your home. This could be due to a lack of moisture, as is often the case during long, hot Texas summers, when the ground around your home or property becomes very dry and shrinks. When the ground shrinks, your foundation shifts.
Are Floor Cracks A Sign That I Need Foundation Repair On My Dallas-Fort Worth House?
It's important to note that too much moisture around your foundation can be equally troublesome. Excessive rainfall and an inadequate foundation drainage system can result in excessive moisture accumulating around your foundation and this can cause your foundation to swell. In addition, plumbing leaks under a slab foundation or pier and beam home can cause the foundation to expand and that, too, can cause floor cracks in your Dallas, Fort Worth or Plano area home. The constant expansion and contraction of the soil due to too much or too little moisture can cause the perimeter beam of your home to bend, sometimes called "panning." Over time, this will result in floor cracks as well as cracks in brick, sheetrock and more.
How To Prevent Floor Cracks:
To stop floor cracks and the need for foundation repair, it is important to maintain a constant moisture level around your home. In the summer, protect your foundation by using a soaker hose or sprinkler system on a regular basis to prevent the soil around your home from drying out. And also make certain that you have a solid foundation drainage system that will prevent moisture from becoming trapped around your home's foundation. Should you require foundation drainage correction, HD Foundations can perform that service on your Dallas – Fort Worth area home.
Invasive tree roots can also be a problem and lead to cracked floors in the Dallas-Fort Worth area. When they creep up under your foundation, they can cause it to shift. Tree roots are very strong and can actually crack your foundation. For this reason, you should make sure that large trees and shrubs are not planted too close to your property.
Faulty construction or poor slab design is another cause of foundation problems that can lead to floor cracks. If your foundation was constructed with an insufficient amount of reinforced steel (or worse yet, constructed with none), your foundation will not be strong. Inadequate slab thickness could also be the source of trouble.
Less common reasons include the use of sub-standard concrete ready mix. This is the mix that is poured from a concrete truck. If the concrete was not mixed properly (too much sand, too much aggregate, or too much water), it will affect the quality of your foundation. Another possibility is that the concrete mix for your slab foundation was poured under poor weather conditions. If the mix was poured on an exceedingly hot day, that can lead to trouble. Concrete slabs suffer excessive hydration at a very high rate because the water in the slab mix evaporates very rapidly when it's extremely hot outside. When this situation arises, the strength of the slab decreases. This situation almost always leads to hairline cracks, which are the very beginning of stress fractures in foundations. These stress fractures can eventually lead to foundation failure.
If you see floor cracks in your Dallas-Fort Worth area home, it's best to have the situation checked out right away before the problem gets any worse.  HD Foundations will be happy to stop by and evaluate your property free of charge. So for affordable foundation repair and solid solutions, call an expert foundation repair contractor.