Foundation Repair Farmers Branch, TX
Enlist HD Foundations For Foundation Repair. We Solve Foundation Problems And Prevent Cracks.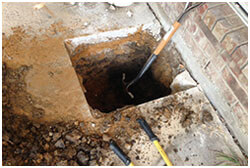 When Farmers Branch foundation repair service is needed, rely on HD Foundations. We're contractors that resolve all kinds of foundation issues. If you see fractures, we can help. We offer a lifetime warranty. When you require free foundation repair estimates, contact us in the Farmers Branch area.
Why HD For Foundation Repair In Farmers Branch?
We stop structural foundation damage, cracks and other forms of foundation trouble. We provide solutions to foundation repair problems. This includes gaps around windows, stuck doors, broken tile /exterior brick.
We repair slab foundations as well as pier and beam structures. We make them upright and level.
We install pressed concrete piers and steel piers. Both types work well.
We offer a fine guarantee. Find out about our Farmer's Branch foundation repair warranty.
We're BBB-A+ rated and have been performing house leveling in the DFW Metroplex for years.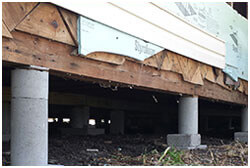 About The Foundation Repair Process:
If we're installing exterior foundation piers, the first thing we do is excavate holes under the perimeter of your foundation. If exterior pilings are being installed, we must break your floor in order to install the piers.
We press the piers down into the ground, one on top of the other. Using a hydraulic jack, our crew forces them into the ground to the point of refusal. Depending upon how deep the soils under your home are, that could be 12′, 14′ or more. If we're installing steel foundation piers, we push them down to bedrock
We place a concrete cap on top of the piers and place your foundation on it.
We fill in the holes with the soil and clean up the site.
Obtain A Foundation Warranty And Estimates:
To avoid foundation trouble, ask us to stop by. If you're in Farmer's Branch, foundation repair evaluations can be schedules free online today. Or, just phone us.