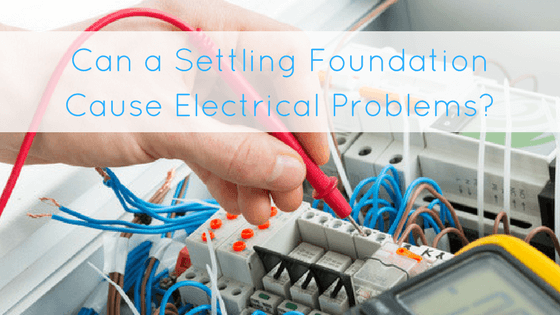 It's not unusual for houses to develop foundation problems. This includes having a settling foundation. A situation in which that occurs often results in cracks appearing on walls and ceilings. It may even lead to fractures in the foundation itself.
Homeowners are often concerned about the possibility that if a foundation is settling, it could lead to the onset of electrical problems, a fire or some sort of hazardous situation. While anything is possible, it is most unlikely that a settling foundation could actually cause electrical problems. That is especially true with a slab foundation. That's because incoming electrical service is mounted on the exterior of homes with slab foundations. With pier and beam foundations, these lines enter from the exterior, too, but they can run in through the crawl space or else run overhead.
What to Keep An Eye On To Determine Whether Your Foundation Settling is Causing Electrical Problems
Broken Electrical Wires and Conduits
While wires frequency do become loose under pier and beam houses (where wires are located in the crawl space), it's far more likely that a person working on your home might accidentally clip an electrical wire. If that happens, you'll probably know it right away since the electricity in that area of your home will be immediately affected. Occasionally plumbers and yardmen accidentally break lines, as do other professionals. In fact, when performing foundation repair, a crew member may accidentally cut an electrical line by digging in an area with underground lines that aren't visible. Knowledgeable foundation repair contractors avoid this problems by phoning the federally designated "call before you dig number" (811) to request that utility lines be marked in advance of beginning a project. Individuals at that organization will stop by and clearly mark utility lines. This generally ensures that a worker will not accidentally cut electrical lines or other household utility lines while servicing your property.
Meter Movement
If a home experiences an inordinate amount of movement over the years, it is possible that the wires in the electrical meter may become loose or disconnected. If this occurs, a homeowner should contact the electric company and ask them to come check the meter. Very old or damaged meters should be replaced right away. There is usually no charge for installing a new electric meter on a house if the meter is in a state of disrepair, or is  exceedingly old.
Breaker Boxes
Because all homes have breaker boxes, the risk of electrical hazards are minimized so it's particularly unlikely that any type of electrical problems would develop as a result of a settling foundation.
Water And Electricity
While a crawl space could become wet due to poor drainage and develop foundation problems, the biggest electrical danger would be that an individual may come in contact with a live or ungrounded wire. Rodents and other animals do occasionally chew on electrical wires under pier and beam foundations. An abundance of water could certainly damage a foundation and create electrical problems, but foundation settling would not be the cause of the trouble.
Call the Experts
HD Foundations has serviced the North Texas community for years and has worked on over 1,800 house foundations. If you have a foundation issue, make sure to contact us right away.
Updated February 20th, 2023