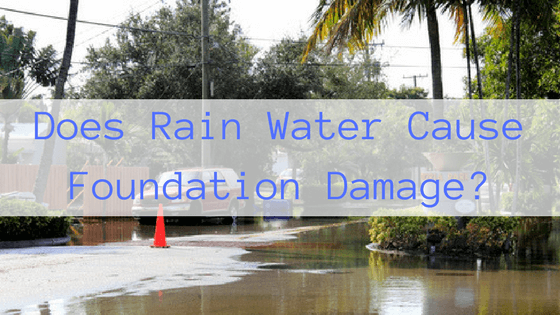 Dealing with rain is hardly unique for those living in North Texas. That's because heavy downpours are commonplace in this region. Homeowners frequently inquire: Does rain water can cause foundation damage to a home?
The Answer is Yes, It Does.
The fact is, moisture can destroy a foundation that isn't funneled away from a structure. Over time, several different things can happen to a house foundation as a result of too much moisture.
In some cases, surface or sub-surface water accumulates under a house foundation due to drainage issues that need to be addressed. This can lead to settling and things like cracks. Ignoring this issue is a big mistake, considering it will only get worse with time and necessitate foundation repair.
"Heaving" can also be harmful. This occurs when local clay soils expand and force a foundation in an upward direction. Both sub-surface and surface water can have a negative affect on a slab and pier and beam foundations.
Foundation Repair Options
Avoiding problems is easy, since drainage systems can help eliminate the probability of foundation damage. Determining which type of drain works best in a specific situation involves determining whether a French drain or a surface system is required. A drainage contractor like HD Foundations can tell you more.
French Drain
Using this option, smaller amounts of moisture are effectively managed through the use of a perforated drain pipe. These trench drains are installed directly next to a house foundation.
This is a consideration that's economically-friendly because it doesn't involve a lengthy installation process, which can quickly push the final bill into costly territory. While it's certainly possible that these drains can be installed by DIY individuals, that's something that's not recommended due to the lack of safeguards, and the huge physical strain involved.
Surface System
There are cases where the French drain may not be the best selection. In that situation, a surface system may be the best choice. For those with a pier and beam home, the latter option is often required, along with a sump pump. Heavy rains can lead to damaging elements such as mold. That could be a health hazard if not properly handled over time.
Water can create all kinds of havoc when it finds a home inside a crawl space. Mildew can lead to odors inside the home, rotten wood under the house and and major deterioration in a structure. Wood rot can quietly devastate the foundation of a home or business, which can mean steep repair bills down the line.
Choosing Drains
Regardless of what the source of foundation damage, homeowners should rely on a professional who knows what to look for and is qualified to do things right. Choosing HD Foundations to handle your foundation repair will solve problems and help you limit property damage. For more information, get in touch with us today.