Drainage Systems, Dallas, Fort Worth, Arlington, Plano, TX
Get Foundation Drainage Systems In Dallas, Fort Worth, Arlington, Plano For Drainage Problems.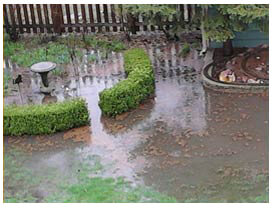 Require foundation drainage systems in Dallas, Fort Worth, Arlington or Plano? You may need a French drainage system or surface drain to correct problems or flood issues around your slab or pier and beam foundation. Learn about drainage problems and drainage systems in the Dallas, Fort Worth, Arlington and Plano area that protect foundations from floods, rain or other water-related problems. Poor drainage causes foundation trouble. Call us for assistance because we service the entire metroplex.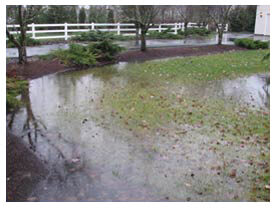 About Arlington, Plano, Dallas, Fort Worth Drainage Systems On Foundations:
These types of systems are very effective. They stop water from standing under your foundation. If rainwater or flooding is an issue, they make a huge difference. Due to the slow migration of water through the clay soil that lies beneath foundations in the DFW area, it may take as long as a year for an affected foundation to settle into the ground. Often, because of the change in the soil's integrity, the foundation with set permanently. When that happens it becomes uneven, and may not return to its original elevation. This is why many property owners often have trouble and require drainage systems. Whether you live in Dallas or Fort Worth, get tips for avoiding foundation drainage problems using systems. The same is true in Arlington, Plano and other cities in theDFW  metroplex that could flood. It's expensive to neglect standing water as it can severely damage your foundation and require extensive foundation repair service. Excess water will eventually force your foundation upwards and create what is referred to as "upheaval." It can lead to lots of other trouble, too. So if you see water standing in your yard in Fort Worth or Dallas, you'll want a drainage system for your foundation. And if you're in the Plano and Arlington areas, have one installed in your yard, too. The slope of your property determines whether excess water will drain properly or poorly.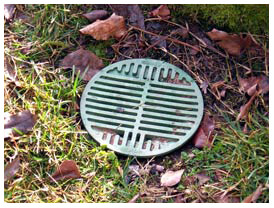 Which Foundation Drainage Systems For Problems:
Surface foundation drainage systems
Sub-surface drainage systems
Swales
Berms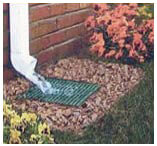 Foundation drainage correction systems are important because they divert damaging water away from your foundation. Water can cause foundation failure. The following is a list of drainage systems and information about what each one does:
Surface Drains:
These are designed to move heavy volumes of water that have nowhere to go once the soil is saturated. These drainage correction systems, which are commonly installed in the Metroplex, are specifically designed to collect excess surface water and provide for foundation drainage correction. Water enters a surface drainage system through catch basins sized to the anticipated volume of water to be collected. The pipe carrying the water from the catch basins is usually PVC or corrugated plastic and is properly sized to the volume of water being drained.
Sub-Surface Drains: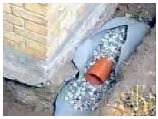 French Drain Systems Stop Foundation Issues.
These types of drains are very popular and used quite a lot. Many homeowners choose to stop foundation issues using French drainage systems in the Dallas, Fort Worth, Arlington and Plano areas. A large number of systems used for drainage, including French drains, are installed around the foundations in case of rainwater of flooding. These systems are an ideal means of directing water away from house foundations. Drainage correction is very important. They force rainwater into storm sewers or catchments, where it will not cause a problem. These drains remove water that is trapped under the surface of the soil, causing flooding, erosion and other foundation issues that must be repaired. The most common sub-surface foundation drainage correction system, French drains, ares used in all local cities.
How To Construct A Sub-Surface Drain:
To create one, dig a trench approximately 6 inches below the surface perimeter of the foundation, and then lay gravel and pipes into the trench. Make sure the pipes are positioned so that the water passing through them goes away from the foundation. A French drain is the practical solution to excess water problems resulting from a sloping yard, or from water that drains onto your property from your neighbor's property.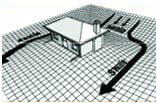 Swales:
These are formations that resemble trenches, but are not very deep. Both sides gently slope inward and direct water away from a structure. When an entire lot drains toward the house or structure, swales can be very effective.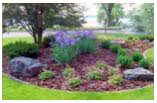 Berms:
A berm is a mound of dirt constructed to control the flow of surface water and allow for foundation drainage correction. Berms are also used to control erosion and sedimentation, reducing the rate of surface runoff. The berms either reduce the velocity of the water, or direct water to areas that are not susceptible to erosion, thereby reducing the adverse effects of running water on exposed topsoil.
Get Free Drainage Estimates:
So if you live in the DFW area and require a surface drain or French drain around your foundation, just schedule a free drainage system estimate in the Dallas, Fort Worth, Arlington, Plano or any other city in the metroplex online today. It's best to stop foundation drainage problems right away.