To learn what foundation evaluations cost, you'll need to contact a foundation repair contractor. Most professionals provide house foundation inspections free or minimal charges apply. You'll discover that repair estimates are generally provided at no cost, too. The best way to find out what any fees will be is to simply call a reputable company.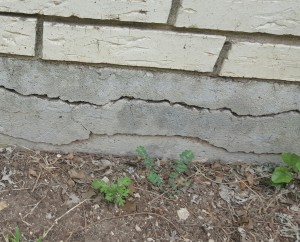 When Isn't The Cost Of A House Foundation Evaluation Free?
It's quite likely that you will be charged for an inspection if you are not the owner of the house or structure. If that's the case, the cost for an evaluation typically ranges from $150-$225. Foundation repair contractors charge for these inspections because they must use their time, gasoline and equipment to examine a foundation that they most likely will not be enlisted to fix. That's because when most prospective homebuyers discover that there's a foundation problem, they ask the owner of the house to pay for the cost of repairing the foundation. In that situation, the owner will generally enlist his or her own contractor to perform the task. It's important to ask any local company you're considering using exactly what their charges will be.
Obtain Foundation Repair Estimates:
It's easy to get an appraisal on your foundation.  Before you do, you'll probably want answers to simple questions regarding what house foundation inspections involve. The quickest means of finding out about any type of fees associated with securing a foundation repair estimate is to simply reach out to a company that does quality work and performs evaluations. It's always wise to deal with a company that has an excellent Better Business Bureau rating. Because costs are a serious consideration, you'll want to know what to expect.
If there are charges involved, you will almost certainly be asked to pay for them at the time of the inspection. It is well worth securing an accurate estimate because it can save you considerable time and money in the future. Whether you're an existing homeowner or a prospective buyer, you'll want to learn all you can about the condition of the structure's foundation. If deterioration has occurred, foundation piers may need to be installed during the repair process. If fixing the house requires installing three piers, it will cost considerably less than if it needs 17 structural supports. Depending upon the extent of damage, 25 piers or more could be required. That's why it's critical to have a foundation thoroughly examined for cracks, settling and any other type of problems.
If you want to know what the cost of having a foundation evaluation will be, phone us. Or, if you own a home or other structure, just schedule a no cost foundation evaluation and repair estimate online. The professionals at HD Foundations will be glad to stop by your residence or commercial property and perform a thorough inspection. We restore slabs as well as pier and beam foundations. The process of examining one takes about an hour and will provide you with the important information you need. To get started, contact us today.
Update 3/11/2022