Common foundation repair tasks involve doing jobs such as fixing cracks in slabs. When foundation repair service is required, contractors have quite a few duties and tasks ordinarily include performing work that will make a foundation level and stable.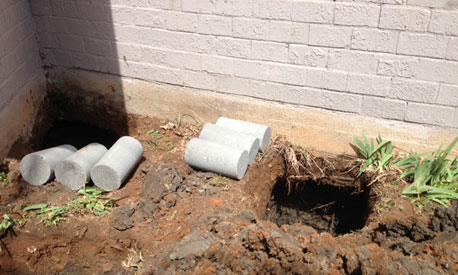 What Are Common Foundation Repair Tasks?
Jobs in the Fort Worth and DFW area routinely include restoring concrete slab or pier and beam foundations that are sinking, need leveling or are cracking. Because houses or commercial properties can experience foundation failure for various reasons, they frequently need to have their crevices in their slabs mended, or have other difficulties that require foundation repair. Common duties that Texas contractors perform include foundation crack repair. Some tasks require extensive foundation work, while others don't. Wooden beams often rot and need service, and concrete foundation piers or steel pilings frequently become uneven and need to be adjusted.
Common tasks also include the following: (1) Conducting foundation evaluations and inspections in order to determine if foundation repair is required or if the property has foundation damage due to fractures. This involves about an hour of a contractor's time when a slab foundation job requires that a house be leveled. (2) Other routine duties entail providing property owners with cracked slab repair estimates, outlining the specific work to be performed, as well as figuring the cost of fixing the foundation, wooden beams, piers and cracks. Contractors ordinarily install concrete or steel piers as part of their foundation repair tasks, too. Experienced foundation contractors calculate repair costs based on the number of piers to be installed. (3) Working with structural engineers, if required. This is a job that a contractor may or may not need to perform for various reasons. Some foundation problems require an engineer.  (4) Filling large areas where cracking is occurring is one of the most common tasks foundation repair contractors perform when making slab foundations level. This generally requires that the foundation contractor supervise assorted workers and make sure the job is done correctly. Proper repair work entails following various procedures. (5) Other duties foundation repair contractors routinely do includes issuing a foundation warranty and associated paperwork.
If you believe your property has issues and would benefit from an inspection, contact HD Foundations for a free repair estimate today.