House Foundation Repair Arlington, Grand Prairie, Mansfield, Dallas, Fort Worth, TX And Beyond…,
See How Arlington, Grand Prairie Or Dallas-Fort Worth House Foundation Repair Can Make Your Property "Texas Strong."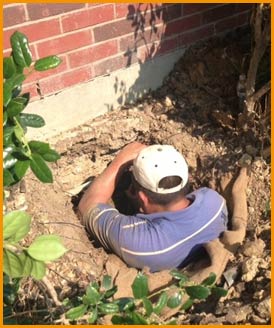 Want house foundation repair in Arlington, Grand Prairie or Dallas-Fort Worth, TX? Contact HD Foundations because HD installs pressed concrete piers and steel piers that will make your property sturdy and stable.
What About The Process Of House Foundation Repair In Arlington, Grand Prairie, Dallas, Fort Worth, TX?
The steps involved in fixing a foundation vary, depending upon what type of slab you have. There are two types of foundations: (1) slab and (2)  pier and beam. Because slab foundations are positioned directly on the ground, they do not have a crawl space under them like pier and beam houses do. That means that the repair process is not the same when fixing these different types of foundations, however, there are similarities. There are also many different types of foundation piers that can be installed under a structure. Listed below are four steps involved in performing house foundation repair in cities like Arlington, Grand Prairie, Mansfield and other Dallas-Fort Worth suburbs using concrete piers:

Step 1

– The repair process begins with preparing the site by laying plywood and tarps in the work area. The repair team will carefully remove your plants with the intention of replanting them once the foundation has been fixed. After completing this task, the crew will dig large holes in those areas of the ground where foundation piers are to be installed.

Step 2

— To lift and support the cracked foundation, foundation piers are installed under your house or structure by placing hydraulically driven concrete columns (called piers or pilings) beneath the foundation. These foundation piers serve as a platform upon which those portions of the foundation that are low (or uneven) will rest. Foundation piers can be made of concrete or steel, and their purpose is to support the load bearing weight of the structure. These piers transfer the weight of the building from the unstable, moisture sensitive surface soils to deeper layers of soils that are less affected by seasonal moisture changes. The pilings are driven into the ground to the point of refusal in order to make them extremely secure. In some cases, these concrete piers may be installed as far as 22′ deep.

Step 3

— As part of the house foundation repair process in the Arlington, Grand Prairie and Dallas-Fort Worth area, the lowest point of your foundation is raised (using hydraulic jacks) in order to restore it to its original position. Then, the house or structure is positioned on top of these piers. This process is frequently called "foundation leveling" or "house leveling." During this step, the project foreman will monitor how your structure reacts in preparation for lifting. When the lifting is complete, steel spacers called shims are inserted under concrete blocks to make your foundation level.

Step 4

— Each hole is compacted with soil in order to fill the void created when preparing the foundation. Concrete areas that were saw-cut are patched. Plants are re-installed, and your yard, walkways and driveway are thoroughly cleaned, raked and washed. Your property will be tidy when the process has been completed.
How Long Does The House Foundation Repair Process Take?
The timeframe can vary depending upon how many piers are installed and what type of piers are used. The typical house foundation repair project in cities like Arlington, Grand Prairie, Mansfield, Dallas and Fort Worth takes 2-3 days. If a lot of work must be done, it can take as long as a week to finish the job. It's important to note that there is more time and work involved to install interior piers than to install exterior piers. That's because installing interior foundation piers involves removing flooring and cracking the structure's concrete slab in order to get underneath it.
How To Find Out What Out What Foundation Repair Will Cost:
Finding out what it will take to fix your property is easy. If you want a professional to evaluate your Arlington, Grand Prairie, Mansfield or Dallas-Fort Worth property, just schedule a free house foundation repair estimate online today. You'll learn what needs to be done to your foundation, how many piers you will need and how long it will take to finish the project. Of course, if you have questions, just call….
Call HD Foundations – 817-226-7221
We're The Best In Texas